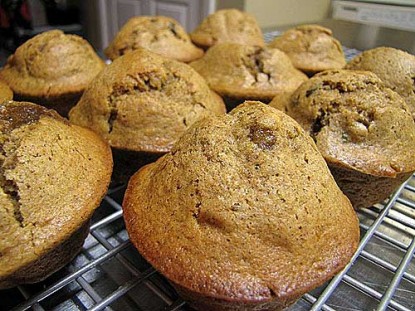 Difficulty: Easy
Servings: 15 muffins
Prep Time:
10 minutes
Cook Time:
15-18 minutes
Ingredients
2 cups all-purpose flour
1 cup brown sugar, packed
2 teaspoons baking powder
1/2 teaspoon baking soda
1/2 teaspoon salt
2 teaspoons cinnamon
1/2 teaspoon allspice
1/2 teaspoon cloves
1 cup apple butter
1/4 cup vegetable oil
1/3 cup milk
2 eggs
1/2 cup raisins, plumped*
1/2 cup diced apple
1/3 cup chopped nuts
Directions
*Place raisins in a small saucepan. Cover with water (or other liquid–can also use apple or orange juice, rum, etc.). Bring to a boil. Turn off heat; cover with lid. Let sit one hour and drain well before adding to recipe.
Preheat over to 400-degrees. In a large bowl, combine dry ingredients and mix well. Add apple butter, vegetable oil, milk, and eggs. Stir to combine. Fold in raisins, diced apple, and nuts. Spoon into a greased muffin pan or use liners. Bake at 400-degrees for approximately 15-18 minutes (keep an eye on 'em!). Makes about 15 regular-size muffins.
Submitted by: suzanne-mcminn on October 26, 2012