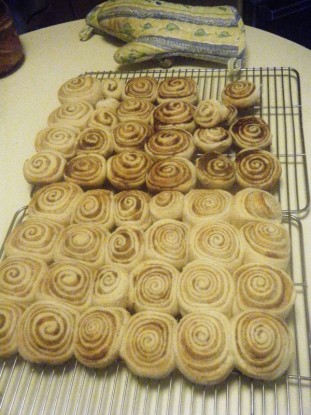 Difficulty: Intermediate
Servings: about 36 rolls
Prep Time:
24 hours. Hands on about 30 minutes.
Cook Time:
20-25 use the shorter time if you plan to reheat
Ingredients
5 cups of flour
1 egg
1 cup whole milk
water to make 2 cups total of egg, milk and water.
1 tablespoon yeast
1 rounded teaspoon salt
3 tablespoons melted butter or poultry fat
Directions
Put all of the flour into a large bowl. Add the egg, milk, water, sugar, yeast and salt. Whisk until pancake batter consistency. Add the fat. Mix with a strong spoon until the dough comes together in a shaggy mass, cover and let rest for 20 minutes.
Knead in the bowl for two minutes and let rest for 15 minutes.
Knead for 2 more minutes and add a dusting of flour and scrape the bits and pieces of dough from the sides of the bowl.
Pour a tablespoon of melted fat around the dough and turn the dough over and around until the bowl and the ball of dough are nicely greased, cover with plastic wrap. Let rise for a couple of hours.
Deflate and turn a couple of folds and and cover with the plastic wrap and refrigerate over night.
When you are ready to shape the dough, dust the table well with flour and cut the dough into two pieces. Roll each piece out to about an 1/8th inch thickness. Sprinkle generously with cinnamon and sugar, spread with the palm of your hand.
Starting at one long end roll the dough like a jelly roll and pinch the edges to seal them. Let them rest a few minutes while you clean up some of the mess. Get a two foot long piece of dental floss and slip this under the roll and cross it at the top and pull the ends to slice the rounds 3/4-inch thick.
Place the rounds a half inch apart on a BUTTERED baking sheet. Let rise for a half hour.
Bake at 350 for 25 minutes.
Categories: Breakfast, Rolls, Yeast Breads
Submitted by: ross on February 12, 2011