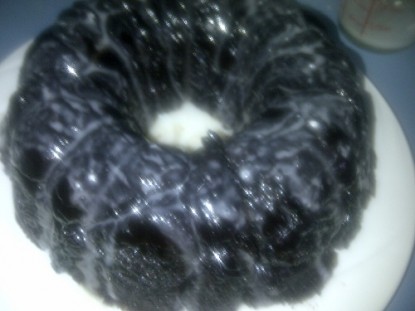 Morning Cocoa Rolls
.
Difficulty: Intermediate
Servings: 12
Ingredients
1 1/2 cups warm water
1 teaspoon yeast
1/3 cup sugar
1/2 teaspoon salt
1/3 cup oil
1 teaspoon vanilla
1/2 cup unsweetened cocoa powder (I use special dark)
3 1/2 cups flour (flour is aprox)
1 stick REAL butter melted in bowl
Sugar Mix:
1 cup sugar
4 teaspoons unsweetened cocoa (I used special dark)
Glaze:
1 cup powdered sugar
1/2 teaspoon vanilla
enough milk (2-4 tablespoons) for good drizzling
Directions
Combine water, sugar, yeast, salt, oil and vanilla in bowl let stand for 5 minutes.
Stir in the half cup of cocoa powder and the first cup and a half of flour with a heavy spoon. Add more flour a little at a time as needed, stirring until dough becomes too stiff to continue stirring easily. Add a little more flour and begin kneading. Continue adding flour and kneading until the dough is smooth and elastic. Beware it is a sticky dough!
After the first rise and second knead cut the dough into chunks drudge in melted butter and coat with sugar mix (I put the sugar in a plastic baggie drop the buttered dough balls into it and shake them). Place them in a greased pan (I use bunt cake pan).
Allow to rise to double the size.
Bake at 350 for approximately 30 minutes. I cover mine with foil to keep top from being over baked. You may also want to place foil under the pan to save on clean up 🙂
When you remove from oven, invert on a severing plate and yummy time.
Mix glaze and drizzle lavishly!!
Categories: Breads, Breakfast, Desserts, Entertaining, Other Breads, Other Breakfast, Other Desserts, Special Occasions, Yeast Breads
Submitted by: citalk2much on October 7, 2011