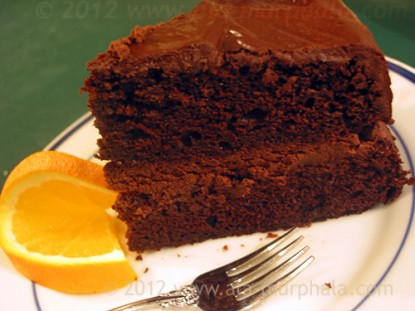 Difficulty: Intermediate
Servings: 12
Prep Time:
30 minutes and 10 minutes for assembly
Cook Time:
30-35 minutes
Ingredients
2 tablespoons dutch cocoa (unsweetened) and cooking spray for pans
1 1/2 cups flour
1 teaspoon baking soda
1/4 teaspoon salt
1/2 cup dutch process cocoa
1.5 cups granulated white sugar
1 cup extra virgin olive oil (that's right. EVOO)
1/2 cup quark or 1/2 cup sour cream or softened cream cheese
3 eggs
4 oz semi-sweet chocolate, melted
1 1/4 cups strong dark coffee (still warm)
For Filling and icing:
18 oz bittersweet chocolate (or milk or semi-sweet chips, depending on your tastes!)
2 cups heavy cream
Directions
Preheat oven to 350F. Spray two 9″ round cake pans with cooking spray. Line the bottoms of the pans with parchment and spray lightly. Dust with cocoa and set aside.
Filling and Frosting:
Chop 18 oz bittersweet chocolate and place it in a bowl. It's up to you what kind of chocolate you use. Using milk chocolate or semi-sweet chocolate chips is fine…
Heat the heavy cream to just bubbly, careful not to burn it.
Pour hot cream over chopped chocolate and whisk furiously until the chocolate is all melted and it's glossy. Set aside to cool. I suggest you don't refrigerate it to cool it. It gets really thick, like the inside of a truffle, when cold.
Note that this is a double batch. This will suffice to whip some for filling and then drizzle the rest over the top of the cake. If you want to fill your cake with something else (fruit, whipped cream, etc.) use just 9 oz chocolate and 1 cup heavy cream.
Cake Batter:
Melt 4 oz chopped chocolate in a bowl (microwave on high for 30 seconds, check and microwave in 20 second intervals until it's hot enough to stir until melted) Careful not to 'burn' the chocolate Add the 1 1/4 cup of still-warm coffee. Mix well and set aside to cool.
Mix flour, soda, salt and cocoa together well in a bowl. Set aside.
Cream sugar and extra virgin olive oil together until moist.
Add quark, softened cream cheese or sour cream. Beat well until incorporated.
Add eggs, one at a time, beating well after each addition.
Slowly stream the chocolate/coffee mixture into the bowl while beating.
Add the flour mixture in thirds, beating well after each addition.
Divide into the two pans, and bake in 350 F oven for 30-35 minutes, or until a pick inserted in the center comes out clean. (It was perfect for me at 30 minutes. You want to err on the side of caution for baking time here to assure moist cake)
Remove to a rack to cool for 10 minutes and then turn out of pans onto racks to cool completely.
Filling the cake:
Pour half the cooled but still liquid ganache into your mixer. (if you refrigerated the ganache, you may need to microwave it a bit to make it whippable) Whip until fluffy. Fill the cooled cake.
Spread the whipped ganache over the first layer. Top with the second layer, shiny round side down.
Topping the cake:
Take the other half of the semi-cooled ganache and pour it over the center of the layered cake, starting at the middle and moving slowly outward. Microwave for 30 seconds and stir if it's too thick to pour. Let it drip down the sides of the cake. Let the ganache harden on the cake before slicing.
Categories: Cakes, Desserts, Entertaining, Gourmet, Special Occasions
Submitted by: murphala on April 10, 2012