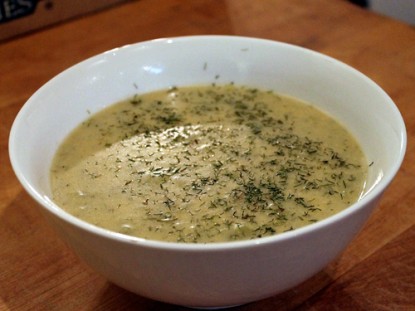 Difficulty: Easy
Ingredients
Large Pot of Potatoes
1 Tablespoon Salt (or less)
2-3 onions, chopped fine
2-3 cups celery, chopped fine
1 Litre (1 quart) potato water
1 Litre (1 quart) heated milk
1 1/2 teaspoon Celery salt
1/3 Cup butter
2 teaspoon dill
1 Cup grated cheese (or more)
pepper to taste
Directions
Boil potatoes and regular salt. Either add onions and celery straight to boiling water, or stir-fry first and then add.
Drain, saving the water, when potatoes are well done and mash thoroughly. The better you mash them the smoother the soup will be.
Add reserved potato water, heated milk, celery salt, butter, dill, grated cheese and pepper. Stir well.
Cook on low heat and stir for about 20 minutes.
Categories: Cream Soups, Old-Fashioned, One Dish Meal, Other Main Dish, Other Soups & Stews, Potatoes, Soups & Stews
Submitted by: pdelainey on October 7, 2011