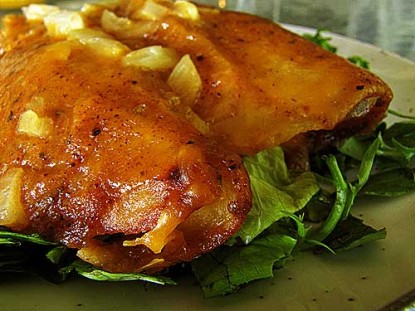 Difficulty: Easy
Servings: 2-4
Cook Time:
Varies, depending...
Ingredients
1/2 cup vegetable oil
8 corn tortillas
3 cups shredded cheddar cheese (can make it with Velveeta for extra melting oomph and good ol' Tex-Mex authenticity)
One medium onion, diced
2 cups chili gravy (Recipe posted here at FBR.)
Directions
Preheat the oven to 450.
Pour the oil in a small skillet, and heat the tortillas one at a time. Keep them wrapped in a cloth until all 8 are heated.
Pour 1/2 cup of chili gravy in a baking pan. (An 8×8 square holds 8 enchiladas nicely.)
Take a tortilla, put 1/4 cup of cheese and 1 tablespoon of onion in the center and roll it.
Place rolled tortilla in baking dish, seam side down. Continue with remaining tortillas. Pour the remaining chili gravy over the rolled tortillas. Sprinkle remaining cheese and onions on top.
Bake for 10 minutes or until sauce is bubbly and cheese is melted.
Categories: Budget, Cheese, Other Main Dish
Submitted by: pete on June 16, 2010