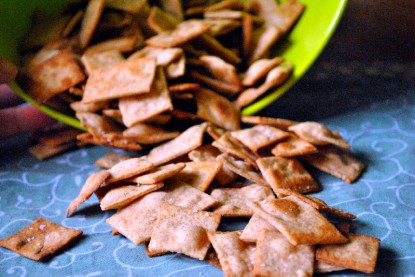 Difficulty: Easy
Servings: varied
Prep Time:
10 minutes
Cook Time:
5-7 minutes
Ingredients
1 1/4 cups wheat flour
1 1/2 Tablespoon sugar
1/2 teaspoon salt, plus more for sprinkling
1/4 teaspoon paprika
4 Tablespoons butter
1/4 cup water
1/4 teaspoon vanilla
Directions
Preheat oven to 400 degrees.
Mix wheat, sugar, salt and paprika in a bowl and mix. Cut the butter up in cubes and cut it into the flour. Add the water and vanilla and mix until a smooth ball forms.
Lightly flour your cutting board and roll out 1/4 of the dough about 1/16 inch thick. Keep the remaining dough under a towel so it doesn't dry out. Cut into cracker sized pieces and place on a parchment lined baking sheet (I sprayed mine with non stick spray and it was just fine). Place crackers onto cookie sheets and sprinkle with more salt if desired.
Bake about 5-7 minutes, keeping a close eye on them. They tend to brown up quickly, so watch those little babies.
I let mine cool on a cooling rack and then put them in a resealable bag.
Categories: Appetizers & Snacks, Budget, Kid-Friendly
Submitted by: charleycooke on June 4, 2011