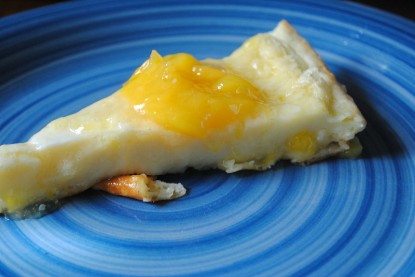 Difficulty: Easy
Servings: 4
Prep Time:
30 minutes
Cook Time:
20 minutes
Ingredients
1/2 cup butter
8 eggs
1 cup milk
1 cup half and half (or use all milk)
1/2 teaspoon vanilla
2 cups flour
1/4 cup sugar
1 can pie filling, your choice
Directions
Preheat oven to 425 degrees. Put butter in a 12 inch cast iron pan and place in the oven to melt. The pan needs to be screaming hot, so this is an important step. Don't skip it! While the butter melts mix everything else together. When the butter is melted in the pan, take it out and pour the batter in. Place it back into the oven and let it bake 18-20 minutes. While the pancake is baking, warm your pie filling in a small saucepan. Spread over the pancake as soon as it comes out of the oven.
Categories: Breakfast, Egg Dishes
Submitted by: charleycooke on November 9, 2012