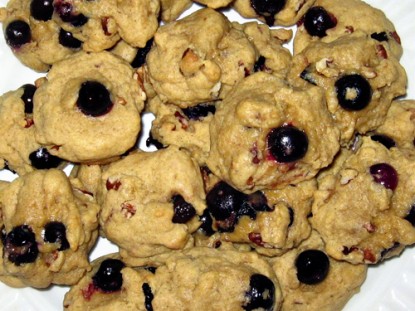 You'll be glad you did.
Difficulty: Easy
Ingredients
1/2 cup butter, room temp
3/4 cup packed brown sugar
1 egg (farm fresh preferred)
1 tsp vanilla extract (triple points if it comes in a skull bottle)
1-3/4 cup flour
1/4 tsp salt
1/2 tsp baking powder
1-1/2 tsp cinnamon
1 Tbsp milk
3/4 cup fresh blueberries
1/4 cup chopped pecans
Directions
Preheat oven to 375F.
Beat the butter and sugar till smooth.
Add egg and vanilla and mix until well combined.
Stir in flour, baking powder, salt, and cinnamon. Mix until dough comes together.
Add in milk. If dough is still crumbly, then add more milk, one tablespoon at a time, till it comes together.
Gently fold in the blueberries. I used my hands for that part.
Refrigerate for 30 minutes.
Roll dough into 1″ to 1-1/2″ balls and bake at 375F for 10-12 minutes.
Categories: Cookies & Bars
Tags: Summer
Submitted by: rmr1984 on August 5, 2011