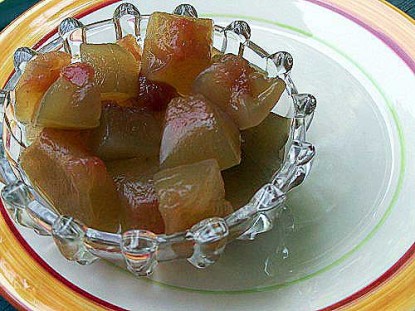 Difficulty: Intermediate
Servings: 2 pints
Prep Time:
12 hours or so
Cook Time:
30 minutes
Ingredients
1 quart or so watermelon rind chunks
1 quart water
1/4 cup pickling salt or Kosher salt
1 cup vinegar
1-1/2 cups sugar
1/2 sliced lemon
2 cinnamon sticks
8 cloves
6 allspice berries
Directions
Day 1: Prepare the rind by removing the green part, and cutting the rind into uniform sized chunks. Some instructions say to completely remove all pink flesh, but a little bit adds interest to the pickle. The easiest way for me to cut the rind into pieces is to cut strips, then cut the chunks, then remove a thin layer, just enough to remove the very outside of the green peel, from each chunk separately.
Place the rind in a pickling crock, a plastic bowl, or a non-reactive pan. Cover it with a brine made from the one quart water, and 1/4 cup pickling salt. Place a plate on top and weigh it down to keep the rind submerged. Allow it to sit in a cool place over night or at least 8 hours.
Day 2: Drain and rinse the rind. Place the rind in a cooking pot and cover with fresh water. Boil until it is soft, and drain again. Meanwhile make a syrup of 1 cup vinegar, 1 1/2 cups sugar, and 1/2 sliced lemon. Heat and stir until the sugar is dissolved. Add the rind to the syrup and cook until the rind is translucent.
For each pint, place 1 cinnamon stick (about 2 inches long), four cloves, and 3 allspice berries into a pint jar, double the amount into a quart jar. Use a slotted spoon to add the rind. Cover with syrup leaving 1/2 inch head space. Wipe rims, cap and place in a hot water bath. Process pints for 10 minutes, quart jars for 15 minutes.
Categories: BWB Pickles & Pickled Stuff, Gift Basket Goodies, Other Condiments
Submitted by: pete on June 23, 2010