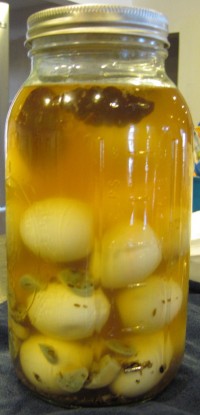 Difficulty: Easy
Servings: 18
Prep Time:
20 min
Cook Time:
15 min
Ingredients
18 bantam eggs, boiled and peeled
1 1/2 cups vinegar (apple cider vinegar is good, too)
1 1/2 cups water
1 tablespoon cumin
6 cloves of garlic, chopped
1 teaspoon dried habanero flakes
1 tablespoon peppercorns
bay leaves
Directions
Over medium heat, mix together the vinegar, water, and spices. Bring to a boil and mix in the garlic and bay leaf. Remove from heat.
Transfer boiled, peeled eggs to sterile jar. Fill the containers with the hot vinegar mixture; seal.
Refrigerate at least a week before serving.
Categories: Appetizers & Snacks, Eggs, Pickling
Submitted by: laree on April 27, 2011