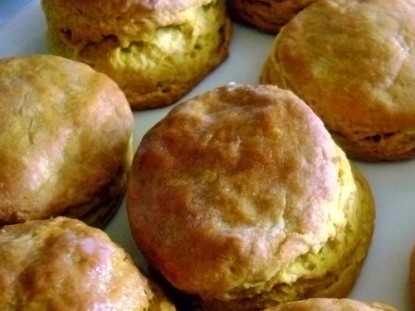 I first saw these little do-dads in Taste of Home Magazine and thought, "Oooohhhh…" and then, with 5 cans of solid pack pumpkin in the pantry, I figured these would be the perfect thing for an Autumn evening.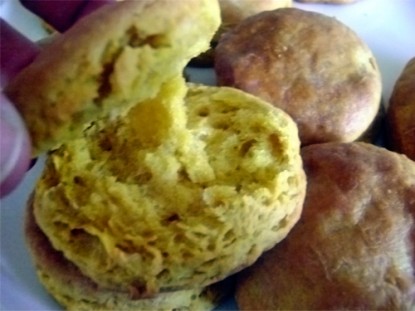 They don't have any of the pumpkin spices that you would expect in a pumpkin bread, but it is nice to know that there is a good dose of vegetables in that little biscuit. They are soft and flaky besides. Beat that. Oh, yeah and they taste really, really good.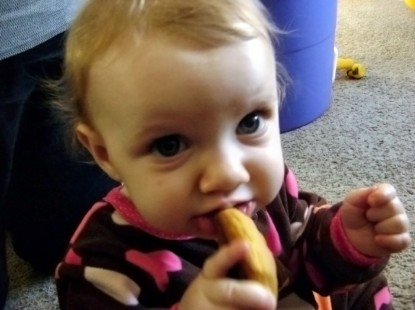 Ask Chompy.
How to make Pumpkin Patch Biscuits:
1-3/4 cups all-purpose flour
1/4 cup packed brown sugar
2-1/2 teaspoons baking powder
1/2 teaspoon salt
1/4 teaspoon baking soda
1/2 cup butter
3/4 cup canned pumpkin
1/3 cup buttermilk
In a large bowl, combine the flour, brown sugar, baking powder, salt and baking soda. Cut in 1/2 cup butter until mixture resembles coarse crumbs. Combine pumpkin and buttermilk; stir into crumb mixture just until moistened.
Turn onto a lightly floured surface; knead 8-10 times. Pat or roll out to 1-in. thickness; cut with a floured 2-1/2-in. biscuit cutter–the top of a mason jar works great. Place 1 in. apart on a greased baking sheet.
Bake at 425° for 18-22 minutes or until golden brown. Brush butter over biscuits. Serve warm.
Get the handy print page and save this to your recipe box here:
Pumpkin Patch Biscuits.

Launi blogs at Gracious Rain.

Interested in contributing a guest post to the Farm Bell blog? Read information here for Farm Bell blog submissions.

Want to subscribe to the Farm Bell blog? Go here.