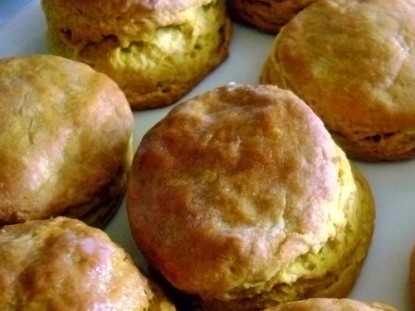 "Oooohhhh…"
and then, with 5 cans of solid pack pumpkin in the pantry, I figured these would be the perfect thing for an Autumn evening.
Difficulty:
Prep Time:
10 min
Cook Time:
18-22 min
Ingredients
1-3/4 cups all-purpose flour
1/4 cup packed brown sugar
2-1/2 teaspoons baking powder
1/2 teaspoon salt
1/4 teaspoon baking soda
1/2 cup butter
3/4 cup canned pumpkin
1/3 cup buttermilk
Directions
In a large bowl, combine the flour, brown sugar, baking powder, salt and baking soda. Cut in 1/2 cup butter until mixture resembles coarse crumbs. Combine pumpkin and buttermilk; stir into crumb mixture just until moistened.
Turn onto a lightly floured surface; knead 8-10 times. Pat or roll out to 1-in. thickness; cut with a floured 2-1/2-in. biscuit cutter–the top of a mason jar works great. Place 1 in. apart on a greased baking sheet.
Bake at 425° for 18-22 minutes or until golden brown. Brush butter over biscuits. Serve warm.
Submitted by: akalauni on October 31, 2010