Much to my family's dismay, it is that time of year where I try new recipes two or three times a week. I am not sure why I do this, or why it is associated with Fall, but the need to learn new recipes becomes a compulsion. A STRONG ONE.
Perhaps it is the impending holidays with non-stop family gatherings or a winter nesting instinct. Maybe it is the multiple (required) work potlucks where I gotta rep-re-sent against women twice my age. Or maybe it is that the days of blistering heat have passed, and I can finally turn on my oven.
Whatever it is, I have a tendency to pick complicated obscure recipes, and my family suffers. SUFFERS. What toddler wants to eat fig clafouti? Maybe French toddlers, but not mine. Still, even when my experiments fail, (and I mean FAIL), I usually learn something worth applying to my everyday fare.
Today's lesson — Make pretzel sticks, not knots!
Why? Because I am unable to roll or fold a pretzel. It is not a skill I have. I cannot fold anything neatly, ever. Like at my first job out of college, when I was banned from folding invoices and stuffing envelopes. My husband has banned me from folding towels. You should hear the ruckus if I put away a fitted sheet.
But still, I was compelled to try.
Look at them. All ungainly and obscene. I know they are laughing at me.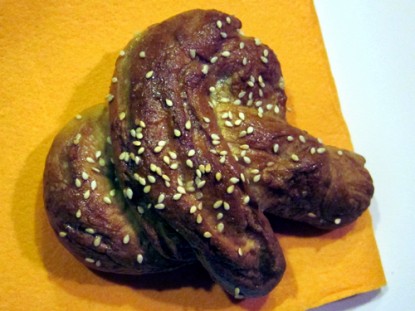 Laugh it up, Chuckles. I am going to EAT you.
And thankfully, so did the family. New recipe: PASS!
SOFT PRETZELS
Original Recipe from www.joythebaker.com
1 tablespoon sugar
1 (1/4-oz) package active dry yeast (2 1/2 teaspoons)
3 3/4 to 4 cups all-purpose flour
1 large egg, lightly beaten
2 teaspoons pretzel salt or grill seasoning
1 heaping Tablespoon baking soda
Stir together sugar, yeast, and 1 1/2 cups lukewarm water (105 to 110°F) let stand until foamy, about 5 minutes.
Mix 3 1/2 cups of flour and salt. Add yeast mixture and mix until it forms a dough. Knead until smooth, but leave dough slightly sticky for easier pretzel formation.
Return dough to bowl and cover, let dough rise until doubled in bulk, about 45 minutes.
Turn out dough onto a clean work surface and cut into 8 equal pieces. Using your palms, roll 1 piece back and forth on a clean dry work surface into a rope about 24 inches long. If dough sticks to your hands, lightly dust them with flour. Twist dough into a pretzel shape. (Dough will retract as you form the pretzel.)
Transfer pretzel with your hands to an oiled baking sheet and form 7 more pretzels in same manner with remaining dough, spacing them 1 1/2 inches apart.
Let pretzels stand, uncovered, about 20 minutes. Meanwhile Preheat oven to 425°F.
Bring a wide 6-quart pot of water to a boil. Once boiling, add heaping tablespoon of baking soda. The baking soda will help the pretzels brown.
Carefully add 2 (maybe 3) pretzels, 1 at a time, to boiling water and cook. Cook about 1.5 minutes on each side. Use tongs to turn over pretzels.
Transfer parboiled pretzels to a rack to cool.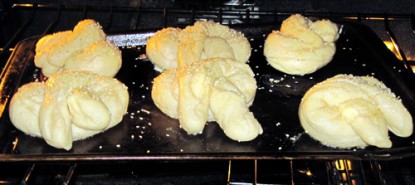 Line baking sheet with parchment paper and oil paper, then arrange pretzels on sheet. Brush pretzels lightly with some of egg and sprinkle with pretzel salt. Bake until golden brown and lightly crusted, about 35 minutes. Cool 15 minutes, then serve warm.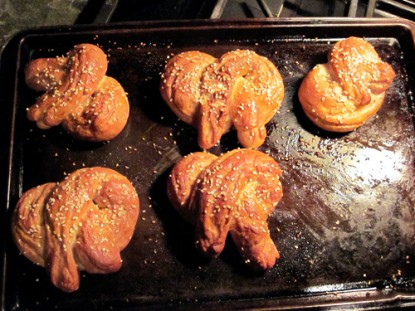 NOTES: I found my pretzels were done in 20 minutes, not 35.
Get the handy print page and save this to your recipe box here:
Soft Pretzels.

Interested in contributing a guest post to the Farm Bell blog? Read information here for Farm Bell blog submissions.

Want to subscribe to the Farm Bell blog? Go here.