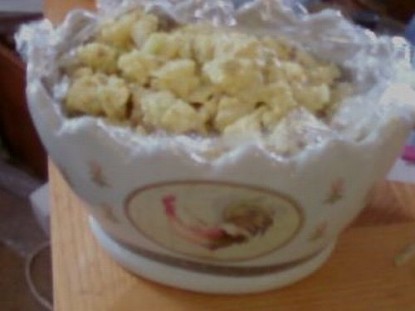 Difficulty: Easy
Servings: 8
Prep Time:
30 minutes
Cook Time:
30 minutes
Ingredients
3 – Pounds Boiled Red Potatoes, cooled
8 – Hard Boiled Eggs
5 – Ribs of Celery (can sub 1 TBSP celery seed)
1 1/2 – Cup Onion (2 small or 1 1/2 medium, chopped)
1/2-3/4 – Cup of Mayonnaise
3 – Tablespoons of Sweet Pickle Relish
1 – Teaspoon of Yellow Mustard, Then Add To Taste
1/4 – Teaspoon Salt, Then Add To Taste
Cajun/Creole Seasoning
Directions
Dice potatoes into 1″ or so pieces. Peel or not, it's up to you (I don't).
Chop or grate eggs.
Chop celery & onion – fine or medium fine. Not too big!
Put in large bowl (after chopping!): potatoes, eggs, celery, onions. Add mayo, mustard, pickle relish, salt, and a very liberal sprinkle of Tony Cachere. Mix together well – I wash my hands, take off my rings, and mix by hand. Taste and adjust seasonings. Add a bit more mayo and/or mustard if it's too dry when you mix it.
Categories: Dairy, Eggs, Old-Fashioned, Potato Salads, Potatoes, Salads, Salads, Side Dishes
Submitted by: mpmarus on May 9, 2011