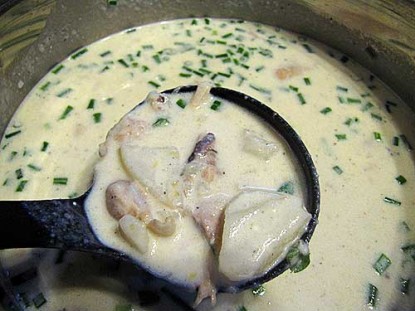 Difficulty: Easy
Servings: 6
Prep Time:
20 minutes
Cook Time:
15 minutes (not counting potatoes)
Ingredients
4 large potatoes (or 6-8 small/medium)
1 cup cut-up leftover chicken
2/3 cup butter
2/3 cup all-purpose flour
1 medium onion, chopped
7 cups milk
1 cup cheese, shredded (cheddar or pepper jack or whatever you like!)
8 ounces sour cream
1 teaspoon garlic salt
pepper, to taste (use lots!)
2 tablespoons fresh chives (or 2 teaspoons dried)
Directions
This soup started out as a variation on my baked potato soup recipe.
Peel and boil potatoes; cool and cut up. For the chicken, you can either prepare some specifically for this recipe, or use a cup (or so) of leftover chicken.
In a large soup pot, melt butter. Add flour and chopped onion. Once butter/flour/onion mixture thickens and bubbles, add the chicken, milk, cheese, sour cream, potatoes, and garlic salt. Simmer for 10 minutes. Stir in chives. Add lots of pepper. Serve immediately.
Categories: Budget, Cream Soups, Dairy, Main Dish, Soups & Stews
Submitted by: suzanne-mcminn on May 6, 2011