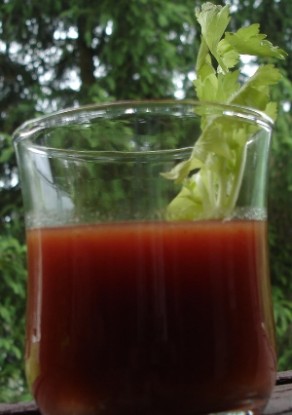 Difficulty: Intermediate
Servings: 16 to 20 pints
Ingredients
20 to 25 lbs. tomatoes
3 whole carrots, peeled, chunked
4 stalks celery with leaves, chunked
1 and 1/2 large onion, chopped
6 cloves garlic, peeled & chopped
4 bay leaves
1 tsp. celery salt
3 tsp. sugar
1 Tbsp. Worcestershire sauce
4 tsp. horseradish
1 tsp. hot pepper sauce
1 tsp. black pepper
1 tsp. cayenne pepper
1 cup bottled lemon juice
Directions
Cut up a couple of pounds of tomatoes into the stockpot & crush
them. Stir tomatoes over high heat until they boil. Continue to add
tomatoes, stirring often. Heat to boiling again. Reduce to a simmer.
Put carrots, celery, onion, garlic in a food processor and reduce to
a pulp. Add the pulp to the pot of tomatoes. Simmer for at least an
hour. Run mixture through a juicer or food mill. Mix juice and
remaining ingredients in a clean stockpot. Heat to boiling, fill hot
jars leaving 1/2″ headspace. Process in boiling water bath 25
minutes.
Yield: about 16 to 20 pints
Dede's note 2008:upon learning that long cooking of tomatoes greatly increases the lycopene content, I started simmering my tomatoes/mixtures overnight in my Nesco roaster.
Doing this has yielded a MUCH smoother/more like commercial texture to my juices. So much better that I have to stop myself from using the newer jars over the older ones LOL!
Adding a bit of oil also greatly increases the Lycopene absorption IIRC, and I added a bit of olive oil to some tomato recipes when appropriate – such as in roasted tomato sauce.
Might as well make our home canned stuffs even better for us, eh?
Categories: Beverages, Boiling Water Bath, BWB Tomatoes & Combos, BWB Vegetables, Canning, Fat-Free, Low-Fat, Low-Sodium, Preserving, Special Diets, Vegan, Vegetarian
Submitted by: wvhomecanner on May 3, 2010