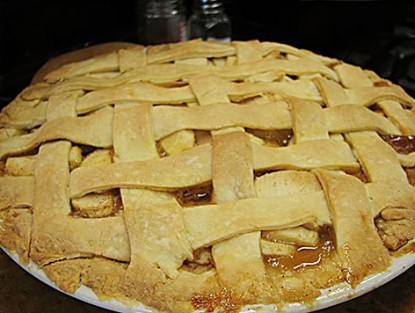 Difficulty: Easy
Servings: 8
Cook Time:
50-60 minutes
Ingredients
6 tart apples, peeled and sliced
1/2 cup sugar
1/2 cup brown sugar
2 T flour
1/2 tsp cinnamon
1/2 tsp salt
1 T vinegar
4 chunks butter
2 (9-inch) pie crusts
Directions
Peel and slice apples. Soak apples in water with 1 tablespoon lemon juice to prevent darkening.
Mix sugar, brown sugar, flour, cinnamon, salt and vinegar in a large bowl. Drain water off apples and mix with spices.
Dump apples into a 9-inch pie crust. Place about 4 chunks of butter on top of apple pie filling. Place other crust on top and seal edges. Poke a few holes in the top crust or do lattice-style crust before placing in oven. Cut a few long strips of tin foil to cover the edges of your pie to prevent them from burning. Remove these strips of foil during the last 10 to 15 minutes of baking.
Bake at 400 degrees for 50 to 60 minutes.
Submitted by: kentuckyfarmgirl on June 30, 2010