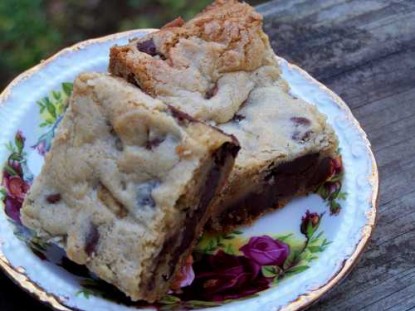 Difficulty: Easy
Servings: 7 dozen
Prep Time:
15 minutes
Cook Time:
8-25 minutes
Ingredients
2 1/4 cups unsifted all-purpose flour
1 teaspoon baking soda
1 teaspoon salt
1 cup butter, softened
3/4 cup granulated sugar
3/4 cup firmly packed brown sugar
2 large eggs
1 teaspoon vanilla
2 cups (12 ounces) GUITTARD SEMISWEET CHOCOLATE CHIPS
1 cup chopped walnuts (optional)
Directions
Preheat oven to 375ºF.
In a small bowl combine flour, baking soda and salt; set aside.
In a large bowl cream butter, sugar and brown sugar until light. Beat in eggs and vanilla until smooth. Gradually add flour mixture until combined. Stir in chips and walnuts.
Drop by well-rounded teaspoonfuls onto ungreased cookie sheets. Bake 8-10 minutes or until golden brown.
The Original Chocolate Chip Pan Cookie: Prepare dough as directed. Spread evenly into greased 10x15x1-inch pan. Bake at 375ºF for 20-25 minutes. Cool before cutting into 48 two-inch bars.
Categories: Cookies & Bars, Holiday, Old-Fashioned
Tags: Christmas Cookie
Submitted by: pete on November 25, 2010