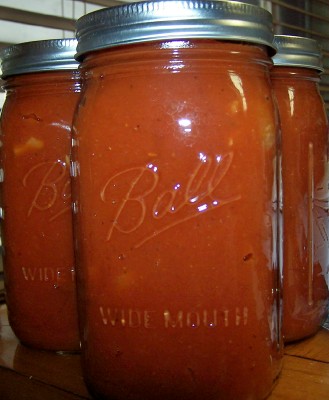 Difficulty: Easy
Servings: 3 quarts
Prep Time:
2 hours
Cook Time:
18 hours
Ingredients
50 Roma tomatoes
1/3 cup Jack Daniels (you can leave this part out or substitute broth)
5 or 6 cloves of crushed garlic
1 teaspoon oregano
1 teaspoon salt
1 teaspoon black pepper
1 whole medium onion, diced
Directions
First, wash up about 50 Roma tomatoes, then cut 'em in half lengthwise. Then you'll want to scoop the seeds out with a spoon (or not — if you like 'em, leave 'em in).
Then turn on your grill to medium high. We're gonna roast the tomatoes on the grill. I used my smoker grill so I can also get a little of that smoky taste. You'll want to lay them skin side down, and leave them just long enough for them to get where their skins are ready to just fall off.
You can do them on a cookie sheet in your oven if you don't want to do them outside. It will just take a little longer. Put them on a cookie sheet with the skin side down (cut side up) and let them go about two hours at 325.
Then take those skins off. They will just slip off, so the only hard thing will be to keep your fingers from getting burned. That being said, you might want to let them cool slightly before you do this. But I hate the waiting — let's get a move on!
Then pile them in your crock pot, and cook 'em on low. If you have crockpot liners, use one so clean up is faster and easier.
To the tomatoes, add the other ingredients.
You can add more stuff to it if you like, but this is a basic sauce that you will add additional things to when you go to use it.
Then let it cook down for quite awhile. I left mine in for almost a full day. Just stir it once in awhile so it does not burn or stick.
Then take the stick blender to it and whirr out any remaining tomato and onion chunks.
This makes about 3 quarts of sauce. You can can it or freeze it if you don't want to use it all at once.
At the end of a batch once in a while, I'll add in some additional things if I have them on hand, such as a jar of mushrooms (or fresh if you have 'em), more diced onion, etc.
Categories: Condiments, Crock Pot, Crowd-Size, Pasta, Sauces
Tags: Italian
Submitted by: flier389 on October 28, 2011