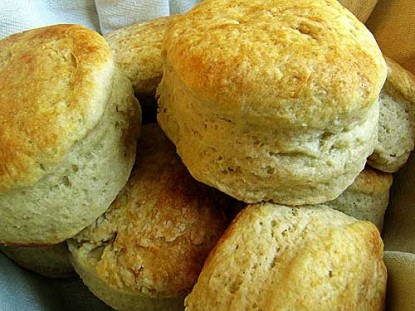 Difficulty: Easy
Servings: approx. 1 dozen
Prep Time:
15 minutes
Cook Time:
12-15 minutes
Ingredients
1 tablespoon yeast
1/4 cup warm water
3 cups all-purpose flour
2 tablespoons baking powder
1 tablespoon sugar
1 teaspoon salt
1/2 teaspoon cream of tartar
3/4 teaspoon baking soda
3/4 cup butter, shortening, or lard
3/4 cup milk or buttermilk
Directions
Or replace the flour, baking powder, sugar, salt, and cream of tartar with 3 1/4 cups of Quick Mix. To vary the amount of dough and make more or less biscuits, per (full) cup of Quick Mix, use:
1 teaspoon yeast
1 tablespoon plus 1 teaspoon warm water
1/4 teaspoon baking soda
1/4 cup butter, shortening, or lard
1/4 cup milk or buttermilk
Add yeast to warm water with a pinch of sugar and let sit to dissolve. Combine flour and other dry ingredients in a large bowl. Cut in butter, shortening, or lard with a pastry cutter. Add the water/yeast mixture and the milk or buttermilk. Stir to combine. Knead lightly. Roll dough out on a floured surface. Cut biscuits as desired, rolling and re-rolling. Place cut biscuits on a greased cookie sheet and let sit for about 20 minutes. Bake at 450 degrees approximately 12-15 minutes (depending on size of biscuits).
Find out more about my Quick Mix here.
Categories: Biscuits, Breads, Breakfast
Submitted by: suzanne-mcminn on August 30, 2010