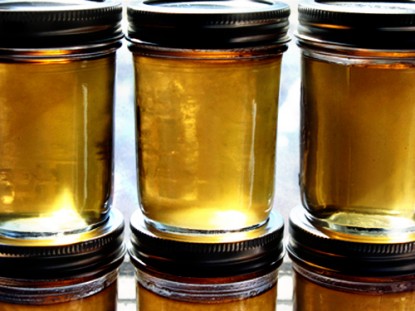 Difficulty:
Servings: 6 half pints
Cook Time:
2 min
Ingredients
10-12 cups of dandelions to make 4 cups dandelion petals (just the yellow flowers)
3 cups of dandelion tea (if you end up short, add water to make up the difference)
4 1/2 cups  sugar
1 box of pectin
Directions
Pick 10 -12 cups of dandelion flowers. Snip the petals from the green parts of the flower with a pair of scissors.
Put petals in large pot and cover with boiling water. Allow to steep overnight; strain and discard petals.
Pour 3 cups of the dandelion tea back into the pan. Add sugar and pectin. Bring to a boil and boil for 2 minutes.
Pour into prepared jars and process for 10 minutes.
Note: You may want to add an extra half box of pectin to help it set up. See Attribution Link for more info.
Categories: Appetizers & Snacks, Boiling Water Bath, BWB Condiments, BWB Jams, Jellies, Butters & Preserves, Canning, Preserving
Tags: flowers
Submitted by: citygirlfarming on August 31, 2010