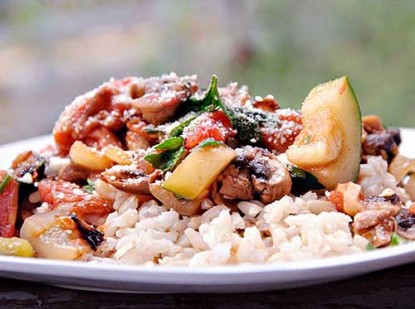 Difficulty:
Ingredients
1/2 stick butter
1/2 medium onion
1 pound sliced mushrooms
1 cup chopped sweet or bell peppers
1 medium zucchini
2-3 diced tomatoes
1/2 fresh parsley, cut into dime-sized pieces
salt & pepper to taste
grated Parmesan cheese
Directions
Melt butter in skillet over medium heat. Add onion and cook until tender and beginning to brown. Add mushrooms, and cook for 2-3 minutes, stirring every 30 seconds. Add peppers, zucchini, and tomatoes. Mix well. Add parsley. Cook a few minutes until vegetables are tender but not overcooked. Remove from heat. Serve over hot rice or noodles. Serves 3-4.
Categories: Budget, Main Dish, Vegetarian
Submitted by: laurap on August 30, 2010