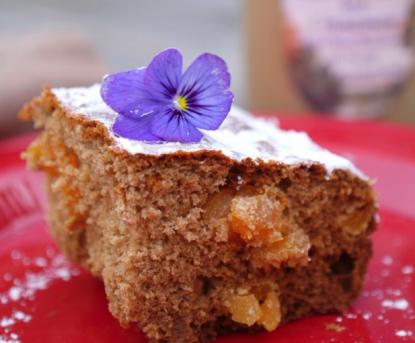 Difficulty: Easy
Servings: 9
Prep Time:
15 minutes
Cook Time:
35 minutes
Ingredients
1 cup rye flour
1 cup unbleached cake flour
2 teaspoons baking soda
1 teaspoon ground cinnamon
1/2 teaspoon kosher salt
1/4 teaspoon ground nutmeg
1/8 teaspoon ground cloves
1/2 cup honey
2 large eggs
1/4 cup unsalted butter, melted
1/2 cup whole milk
1 cup prunes, chopped (I used apricots)
Directions
Preheat the oven to 350F. Grease an 8 X 8 inch square cake pan. A parchment square in the bottom might be a good idea if you think the cake will stick to your pan. Grease the parchment, too.
Sift the flours into a mixing bowl. Any large pieces of bran left in the strainer can be discarded. Add the baking soda, cinnamon, nutmeg, salt and cloves.
Add the eggs, honey, milk, and butter. Stir with a wooden spoon to combine. Add the prunes and stir to distribute them.
Pour the batter into the pan and bake for 35 minutes or until a cake tester poked into the middle of the cake comes out clean.
Remove it from the oven and let it cool. Dust with powdered sugar if desired.
Categories: Cakes
Submitted by: smallpeace on December 5, 2011