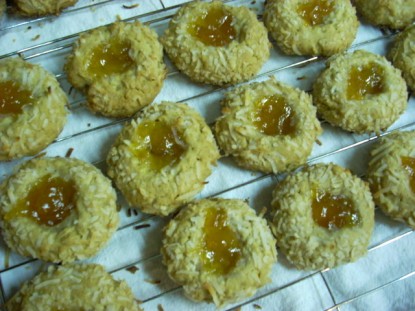 Difficulty: Easy
Servings: 5 dozen
Prep Time:
15 minutes
Cook Time:
12 minutes
Ingredients
3 cups flour
1 tsp. salt
2 tsp. baking soda
1 cup butter
1/2 cup shortening
1 1/2 cups brown sugar
2 eggs
2 tsp. vanilla
3 cups oatmeal
Shredded coconut
Apricot-pineapple or raspberry jam
Directions
Combine and set aside: flour, salt, baking soda
Cream: butter, shortening and brown sugar
Add: eggs and vanilla
Stir in flour mixture and oatmeal.
Using one tablespoon of dough, form a balls and roll in coconut. Place on baking sheet and make an indent in center. Fill indent with apricot-pineapple or raspberry jam.
Bake 10 – 12 minutes at 375 degrees.
Categories: Cookies & Bars, Desserts, Holiday
Tags: Christmas Cookie
Submitted by: iamvics on December 23, 2010