You've probably heard the joke: What does it mean when you see a woman buying zucchini at the supermarket? She doesn't have any friends! For those of you who plant your own zucchini, you know the truth of that statement. Sometimes it's hard to use them up and give them away fast enough.
I personally love zucchini. When I was young, I had dreams of publishing a book full of zucchini recipes. (This is before they did stuff like that!)…but alas, I'm sure by now someone (or many) have beat me to that lofty goal.
But that doesn't stop me from creating with zucchini. Recently I came across a recipe for Zucchini Pancakes. I modified it a bit and decided they seemed more like a zucchini version of a potato latke to me, so I also changed the name to Zucchini Latkes (which I know is just a technicality as latkes are pancakes). Just seemed more fitting to me though, since I think of latkes as savory and pancakes (generally) as sweet.
How to make Zucchini Latkes:
Shred 4 cups of zucchini and place in colander for at least 30 minutes to drain extra juice. Pat dry and add to a mixing bowl.
Add the following to the zucchini:
1/2 cup finely diced sweet onion
2 eggs
1/3 cup ground (uncooked) quinoa (or you can use regular flour too, if you want. The quinoa just adds extra protein and lots of other good stuff.)
1/4 teaspoon smoked paprika
1/4 teaspoon both salt and pepper
dash chili powder
1/8 teaspoon red pepper flakes
1 tablespoon fresh dill, minced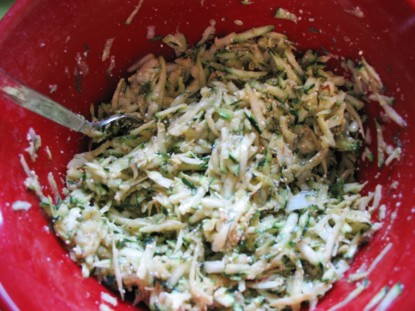 Preheat a frying pan on medium high with a bit of olive oil. Scoop zucchini mixture into pan and flatten slightly with a spoon. Cook for 3-4 minutes or until starting to turn brown. Flip and repeat.


I personally like them just plain, but they're also good with a dollop of sour cream on top.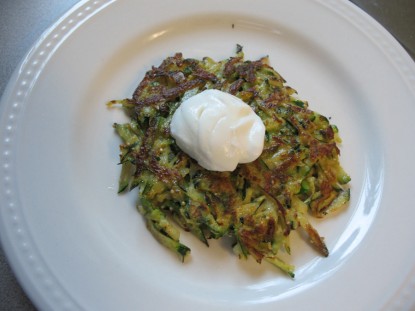 Now that I've discovered zucchini latkes, I'm suddenly impatiently waiting for zucchini to grow big enough to pick. What happened to that surplus? Oh, that's right, I've been devouring it! Yum!


Get the handy print page and save this to your recipe box here:
Zucchini Latkes.
Kerrie blogs at City Girl Chickens.

Do you have a recipe post or kitchen-related story to share on the Farm Bell blog?
See Farm Bell Blog Submissions for information, the latest blog contributor giveaway, and to submit a post.

Want to subscribe to the Farm Bell blog? Go here.
What can you enter to win this month? Click here.