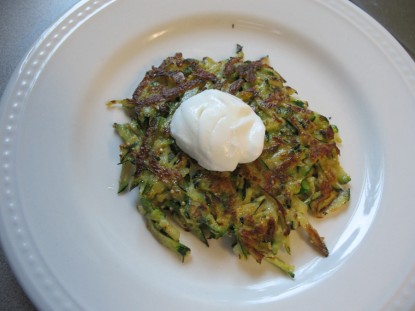 Difficulty: Easy
Servings: 4
Prep Time:
30 minutes
Cook Time:
20 minutes
Ingredients
4 cups shredded zucchini
1/2 cup minced onion
2 eggs
1/3 cup ground (uncooked) quinoa (or use regular flour if you'd rather)
1 tablespoon minced fresh dill
1/4 teaspoon both salt and pepper
1/8 teaspoon red pepper flakes
1/4 teaspoon smoked paprika
dash of chili powder
Directions
Shred zucchini and let drain in colander for at least 30 minutes. Pat dry.
Mince onions and add them and all other ingredients (except olive oil and sour cream) to a bowl. Mix together.
Preheat frying pan on medium high, add a bit of olive oil. Add scoop of zucchini mixture, pat it down with spoon, and fry for 3-4 minutes (until golden brown). Flip and repeat.
Serve with dollup of sour cream if desired.
Categories: Budget, Gluten-Free, Side Dishes, Vegetables, Vegetarian
Submitted by: citygirlfarming on August 12, 2011