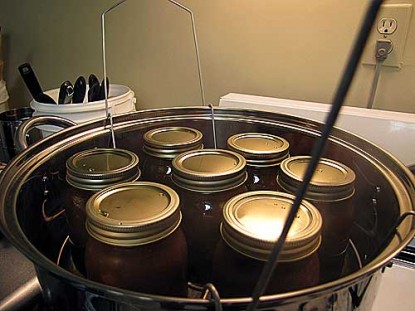 Difficulty: Easy
Servings: varies
Prep Time:
varies
Cook Time:
10 minutes
Ingredients
PER QUART APPLESAUCE:
1 1/2 to 2 cups sugar*
1/2 cup raisins
1 teaspoon cinnamon
1 teaspoon cloves
1/4 cup whiskey
Directions
*Adjust amount of sugar to suit your tastes. Start with the lower amount and see how you like it. I use 1 3/4 cups.
I simmer my apple butter in crock pots. Whatever you're using, combine the applesauce, sugar, raisins, cinnamon, and cloves in the pot (NOT the whiskey yet) and mix well. Simmer for several hours, stirring occasionally. When the butter is thick–rounds up on a spoon–stir in the whiskey. Get your sauce as thick as you can before adding the whiskey. The less you cook after adding the whiskey, the better–you don't want to cook it out. I try to not cook it more than another 15-20 minutes after adding the whiskey.
Process in a boiling water bath 10 minutes.
Categories: Boiling Water Bath, BWB Jams, Jellies, Butters & Preserves, Canning, Preserving
Submitted by: suzanne-mcminn on October 4, 2012