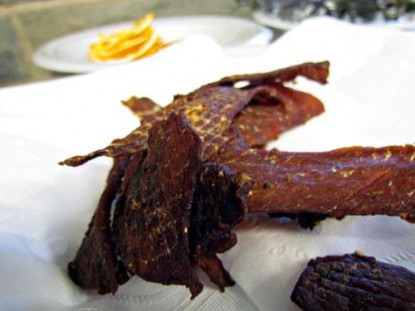 Difficulty: Easy
Servings: varies
Cook Time:
5 - 8 hours
Ingredients
1/3 lb. brown sugar
3 cups soy sauce
½ cup liquid smoke
½ tsp. lemon pepper
1 Tbsp. Worcestershire sauce
1/8 tsp. ground cayenne pepper
Lean pork loin, sliced 1/8" thick x 1" to 2" wide, all fat removed
Directions
Mix ingredients in bowl and let stand while you are cutting the meat. Slice pork loin. (Partially frozen is easiest to thinly slice.) Place meat into the bowl of marinade and let stand about 10 minutes after stirring well to cover all pieces equally. Drain briefly in sieve or colander. Place on mesh trays and dehydrate at 155 to 160 degrees. Drying time is about 5 to 8 hours with a motorized-fan dehydrator. Jerky is finished dehydrating when it nearly snaps when bent.
Categories: Dehydrating, Preserving
Submitted by: wvhomecanner on October 8, 2012