First you weigh it to find out exactly how giant it is. Then you continue to scratch your head wondering just how that 4 pound 11-5/8 ounce thing managed to hide itself this long!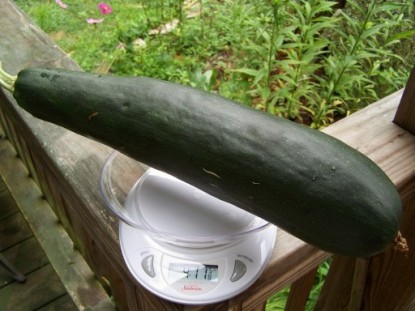 Then you start looking through all the wonderful recipes posted here at Farm Bell Recipes, especially those delicious looking squash recipes recently posted. They all sound so good.
Just as you are pondering these things, a recipe for Cranberry Zucchini Bread lands in your Inbox which demands to be tried. At least that is what happened to me.
By this time I had already gotten out the brand new grinder attachment to the old Kitchen Aid mixer to use on the zucchini. It had to be much easier than using a box grater! And it was. Cutting that huge zucchini into chunks was the most difficult part of the entire process.
Of course, you begin with a pile of parts that you have washed and must get them all back together again to grind the zucchini. Once that is done, just plug it in and start grinding!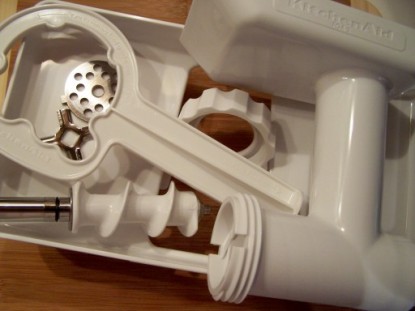 The instructions say to cut things into strips to go into the grinder. Well, I suppose that should be self evident, but there I was wondering how we were going to get the zucchini down the shoot and out through those little holes. Well, DUH! (Can you tell that I have NEVER used a grinder before??) You also have to decide whether to use the disk with the small holes or the disk with the smaller holes. I opted, for no particular reason, to use the one with the larger of the small holes. Maybe because it just seems like it is easier to make pieces a little too large into smaller pieces than to make pieces which are too small into larger pieces? Not that I had any plan to use the zucchini any way other than how it came out of that grinder.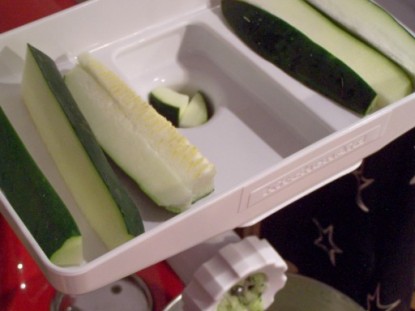 By the way, I heartily recommend taking the grinder apart before you use it. Even if you are not inclined to want to clean it before you put food into it, by taking it apart you discover that there are two of those disks in there with holes in them, and you really should only use one of them at a time. Really.
After grinding and grinding and grinding, you wind up with a big bowl full of zucchini mush, uh, that is to say ground pieces of zucchini which you can immediately turn into any recipe that calls for tiny pieces of squash!  This day, it went into the new bread recipe.  The rest can be packaged into whatever size packages you need for your favorite recipes.
The recipe for this delectable Cranberry Zucchini Bread can be found here so you can print it out or save it to your recipe box!
Interested in contributing a guest post to the Farm Bell blog? Read information here for Farm Bell blog submissions.

Want to subscribe to the Farm Bell blog? Go here.