One of my favorite traditions for Christmas is my grandma's brandied cookies. Every year, she fills a Christmas tin with those cookies and ships them off to me. Nothing says CHRISTMAS quite like them, as they've been in my family since my great grandma, who started the cookie tradition.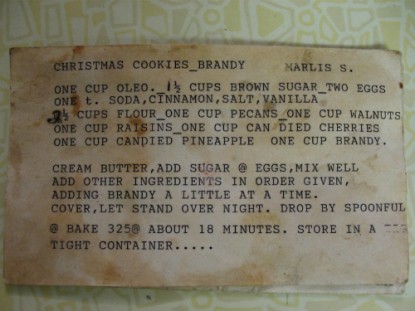 My grandma, who is inching her way to 89, still lives in her own house (where she's lived since my dad was a baby) and manages her life. She's slowing down some and doesn't remember things like she used to, but she still holds her own. Last time I went to visit, I asked if we could make the famous brandied cookies together. Although the recipe is easy, I've never actually made them myself. I wait for them to arrive in the mail each December (making them even more special).


Grandma certainly isn't ready to hand the torch to me, but I wanted to create the memory of baking these cookies with her while she's still here. And mmmm. They were delicious, like always!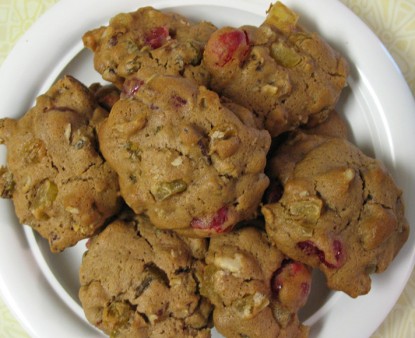 How to make Grandma's Brandied Christmas Cookies: Printable
1 C butter or margarine
1 1/2 cups brown sugar
2 eggs
1 teaspoon baking soda
1 teaspoon cinnamon
1 teaspoon salt
1 teaspoon vanilla
2 1/2 cups flour
1 cup pecans
1 cup walnuts
1 cup raisins
1 cup candied cherries
1 cup candied pineapple
1 cup brandy
Cream butter, add sugar and eggs. Mix well. And all other ingredients in order given, adding brandy a little at a time.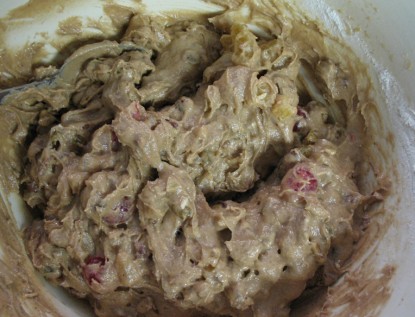 Cover, let stand overnight. Drop by spoonful onto cookie sheet.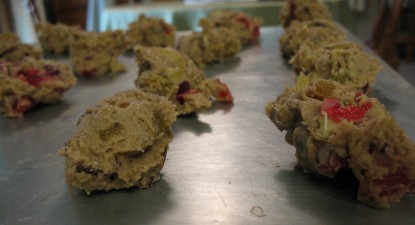 Bake at 325 degrees for about 18 minutes. Store in an airtight container.
Kerrie blogs at CIty Girl Farming.

Do you have a recipe post or kitchen-related story to share on the Farm Bell blog?
See Farm Bell Blog Submissions for information, the latest blog contributor giveaway, and to submit a post.

Want to subscribe to the Farm Bell blog? Go here.
What can you enter to win this month? Click here.