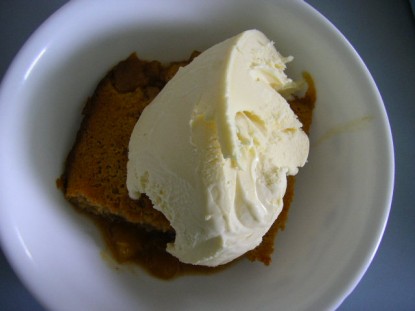 Difficulty: Easy
Servings: 8-10
Prep Time:
20 minutes
Cook Time:
40 minutes
Ingredients
1 1/2 cup flour (all purpose, whole wheat or spelt)
1/4 teaspoon salt
1 teaspoon baking powder
1/4 cup sugar (I use vanilla sugar.)
1 stick butter, softened
2 eggs
1 teaspoon vanilla
3/4 cup milk with 1 teaspoon cider vinegar added
10 cups zucchini-peeled, seeded, small cubed
2/3 cup lemon juice (if you like less lemon taste
do half with water)
1 cup brown sugar
1 teaspoon cinnamon
1/2 teaspoon nutmeg
Directions
Preheat oven to 350. Spray a 13×9 glass pan with spray oil.
Place cubed zucchini in large pot with the lemon juice. Bring to boil. Stir. Simmer for 7 minutes.
Add brown sugar, cinnamon, and nutmeg. Stir. Cover and simmer 10 minutes.
Place zucchini mixture in prepared pan. Set aside.
Mix flour, salt, baking powder, and sugar. Cut in butter until crumbly. Add eggs, one at a time, while mixing. Add vanilla. Stir in milk/vinegar mix. Do not over stir!
Pour flour mixture on top of zucchini mixture and bake for 40 minutes.
Categories: Cobblers, Desserts
Tags: garden
Submitted by: patrice on July 20, 2010