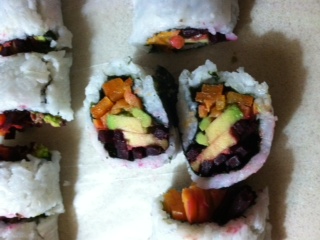 Difficulty: Intermediate
Servings: 4
Ingredients
1 cup white rice (uncooked)
1/4 peeled cucumber
1/2 peeled carrot
1 small peeled beet
1 small section of an orange bell pepper
1 small avocado
1/2 of a small sweet potato (I microwaved for 3 minutes before cutting so it was cooked and easier to cut)
2 sticks of imitation crab meat
several sheets of nori
Soy Sauce and Wasabi for serving
Directions
Cook rice with rice wine or red wine vinegar. When the rice is cooked (and very sticky) fluff and let cool.
While the rice is cooking, cut up all of the fillings. I julienned the following: cucumber, carrot, beets, orange bell pepper, avocado, sweet potato (I microwaved for 3 minutes before cutting so it was cooked and easier to cut), imitation crab meat.
Once that was done, I laid it all out on my cutting board and then taped a piece of waxed paper onto my counter where I'd be rolling the sushi for easier clean up. I covered my sushi mat with plastic wrap (to keep it lasting longer) and my workstation was ready
When everything was ready, I placed one sheet of nori (seaweed) into the toaster oven at 300 degrees for 3-4 minutes to soften it up. While the nori was toasting, I spread a thin layer of rice about 3/4 the way up the sushi mat with wet hands. By the time I was done spreading, the nori was ready to come out and I placed it on top. Then I put the ingredients in a line on the bottom third of the nori, and started rolling.
For the California Rolls, I placed crab meat, cucumber, and avocado.
For my vegetable rolls, I used different combinations of sweet potatoes, avocados, beets, carrots and bell peppers. You could probably use any combination of vegetables you have laying around that would compliment each other.
I learned while making this there is some practice needed to make a decent sushi roll. You want to fold the bottom of the roll up over the ingredients, then start rolling the rest. Chill for a few minutes, then cut into pieces to serve with soy sauce and wasabi paste.
Categories: Appetizers & Snacks
Submitted by: katieiacobellis on January 5, 2012