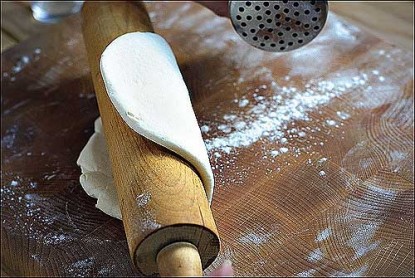 Difficulty: Intermediate
Servings: 5-6 pie crusts
Cook Time:
varies by the pie
Ingredients
5 cups flour
4 tablespoons brown sugar
1/2 teaspoon baking powder
1/2 teaspoon salt
1 pound lard or shortening
1 egg
1 tablespoon vinegar
3/4 cup milk, approximately
Directions
In a large bowl, mix dry ingredients together until well blended. Cut in fat with pastry blender, leaving it fairly rough and not totally mixed, sort of like baby peas in flour. In a measuring cup, mix together vinegar, egg and enough milk to make 1 cup of liquid.
Add wet ingredients slowly to dry ones, stirring as gently and as little as possible. It is these tiny, unmixed pieces of fat that make the flakes in the baked pastry, so you want to keep them intact and not make it any smoother than you have to while working it and rolling it out. It will take a bit of work with floured hands to get it into a cohesive dough that can be rolled. Do not add more liquid, just take the time to gently knead it with your hands until it is just barely blended enough. It will form a good dough when mixed enough. Do not use a food processor for this or you will end up with bread, not pastry.
Divide this dough into five equal balls. Use one ball for one pastry. If making a pie with a pastry top, use another pastry for the top. Keep the trimmings, as the trimmings from all five balls should make a good sixth pastry, if gently handled. Put each ball into a small freezer bag and freeze until needed. Take out the day before to thaw. Keep refrigerated until needed. (Microwave thawing is not recommended as it is too uneven.)
Heavily flour a flat surface for rolling. This is not a cake. You can mix as much flour into it as you need to and it won't affect the outcome. Pastry is meant to be dry, so use a lot of flour and it won't stick to the rolling surface. Another trick to keep it from sticking while you roll it is to keep it moving. Turn the circle continuously while also adding more flour underneath as needed. If you are rolling and it feels like it might be starting to stick in one area, gently lift that corner, add more flour and turn the dough to spread out the flour under it.
If the dough starts to crack while rolling it, roll it in the other direction, leaving that crack on the outside edge. Watch the dough carefully while rolling to prevent large uneven cracks and keep it turning. When you have a ball rolled out that is the right size for your pie tin, roll it up onto the rolling pin. Lift pin and dough onto the pie tin and unroll in place. Trim edges around outside of pie tin, with about 1/2″ left over outside edge. When the top pastry is added, fold this extra edge over the top and seal with water and a fork.
This pastry can also be used for turnovers, apple dumplings, etc. etc. It's just very good pastry.
If you are pre-baking the pastry shell for a custard type filling, bake it full of dried peas or beans to keep it from losing shape in the oven.
Categories: Crusts, Desserts, Pastries, Pies
Submitted by: runningtrails on July 6, 2010