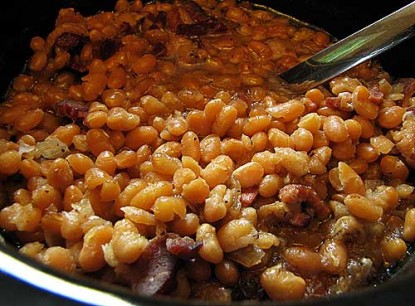 Difficulty: Easy
Servings: 10-12
Prep Time:
10-15 minutes, divided
Cook Time:
8-9 hours, divided
Ingredients
2 1/2 cups (dry) small navy or great northern beans
4 thick strips uncooked bacon, cut in 2-inch pieces
1 small onion, chopped
1/2 cup pure maple syrup
1/4 cup brown sugar, packed
1 teaspoon salt
1/2 teaspoon pepper
Directions
Rinse beans. Place in a large pot; cover with water. Bring to a boil. Turn off heat; cover and let sit for one hour. Drain beans and cover again with fresh water. Bring to a boil then cover and simmer for one hour.
Drain partially-cooked beans, reserving cook water. Place beans in a 3-quart crock pot. Add 2 cups of the cooking water and the rest of the ingredients.
You can put them in the crock pot right away or refrigerate and cook the next day. Cook in a crock pot on Low for 6-8 hours.
*If you use pepper bacon, you don't need to add pepper. Adjust salt to taste.
Categories: Beans, Grains & Rice, Crock Pot, Other Side Dishes, Potluck
Submitted by: suzanne-mcminn on July 6, 2010