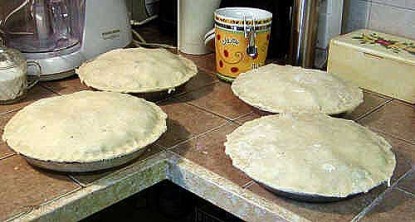 Difficulty: Easy
Servings: varies
Prep Time:
varies
Cook Time:
varies
Ingredients
4 cups fruit or berries, approximately
4-8 tablespoons flour
1-3 cups sugar
Directions
Wash, peel, core, pit, seed, chop and generally prepare fruit and berries as you would for pie. Make enough berries to fill your pie tin, measured as above. Add from 4-8 tablespoons of flour depending on how watery this particular cooked fruit/berry usually is. Add 1-3 cups of sugar depending on the tartness of this fruit/berry and how tart you like your pies. (Any type of berry will usually need 2 cups, rhubarb needs 3.)
Stir together in a pot on the stove on medium and bring to a boil before adding to pastry. Do you often find that you have to overcook the pastry to get the filling completely done? This step will avoid that. You can even cook it halfway or completely before putting it in the pastry. Don't add cold filling to a pastry shell and expect it to cook before the pastry burns.
If you are pre-baking the pastry shell for a custard type filling, bake it full of dried peas or beans to keep it from losing shape in the oven.
Optional ingredients–
*1/2 teaspoon cinnamon–always add this to apple pies.
*REAL butter in small bits under top pastry. (Please people, use real butter here. It's PIE, after all. What's a few more calories…)
*Small amount of sweetened, condensed milk for creaminess or REAL cream (see "butter" above).
*Nuts or shelled sunflower seeds.
*Raisins–good with apples and nuts.
*Pineapple. (What goes well with pineapple?)
*I think a pie made with a mix of cherries and blueberries, with chopped walnuts would be heavenly! Why don't people put nuts in pies? Or chocolate chips. What's wrong with chocolate chips in a fruit pie? You can just add them on top under the crust, after you put in the hot filling. They would certainly go well baked with bananas. Has anyone ever made a hot banana pie–probably not. Hot fudge pie is certainly delicious, as is butterscotch pie!
Categories: Desserts, Fillings, Pies
Submitted by: runningtrails on July 6, 2010