Or some call it a Polish Dough Whisk.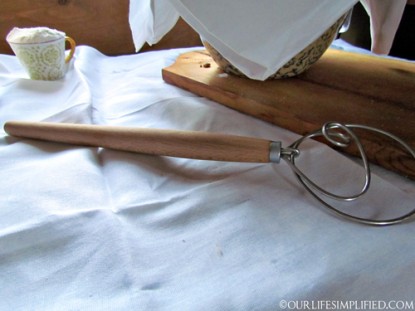 I didn't know such a thing existed! Until the Retreat and Sonia had one. I spied it during the Homemade Beauty Products class…it was just sitting there looking intriguing.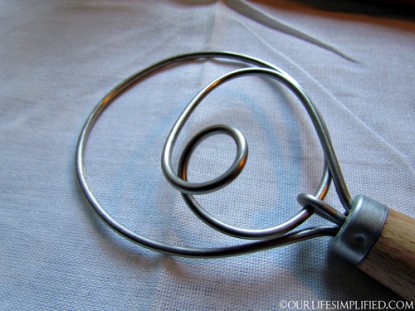 I had to know what it was.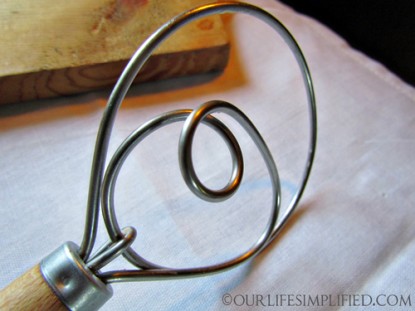 And I, being me, was trying to figure out how to make one. It's just one piece of stainless steel heavy gauge wire wrapped around in loops and stuck into a wood handle.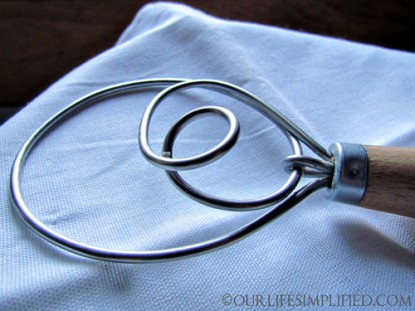 By the time I was done with my inquisition, I had it all figured out. I was just wondering where I could find some food safe stainless steel heavy gauge wire.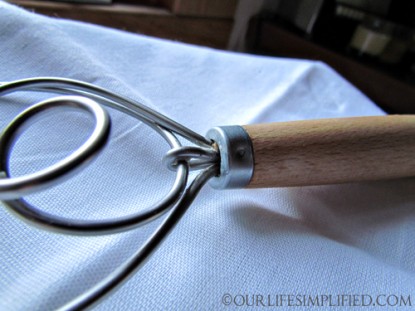 Then, sweet Sonia GAVE IT TO ME! She just gave it up! This is the neatest, manual kitchen gadget I've seen in quite awhile.
The wide open loops allow you to mix dough (yeast doughs, cookie doughs, stiff doughs, light doughs) without it getting clogged or your wooden spoon getting all gunky.
It's been sitting pretty on the counter ever since I got home. I finally used it to make bread! (It's been a slow recovery of getting back to normal. B.R. (before Retreat) bread went into the freezer and I haven't had to bake in a while.)
I even added a couple tablespoons (or so!) of the True Homemade Honey beekeeper Angela P brought me.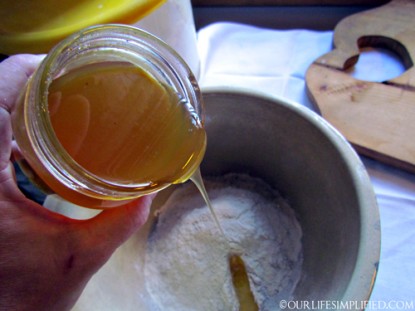 I need bees! This is the best honey I've ever had…even of that I've bought locally. This is unpasteurized, which must be what makes it better.
Thank you, Ang!
Think of the Danish Dough Whisk as a manual KitchenAid. It wasn't rough using. I just kept whipping it around until it formed a ball of dough.
Sonia said she flops it out and gives it a quick knead, so I did, too. But I don't think it needed it.
And look how clean my bowl is!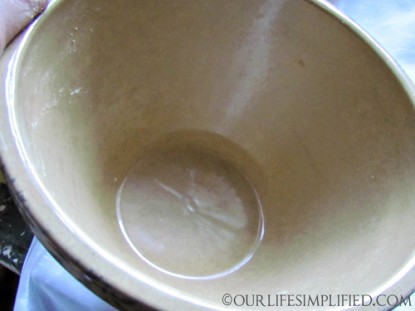 I absolutely love this, Sonia, thank you, thank you, Thank You!
Cindy blogs at Our Life Simplified.

Do you have a recipe post or kitchen-related story to share on the Farm Bell blog?
See Farm Bell Blog Submissions for information, the latest blog contributor giveaway, and to submit a post.

Want to subscribe to the Farm Bell blog? Go here.
What can you enter to win this month? Click here.