If you're not at the Retreat, this is what you're missing for supper tonight (along with Herb Bread)–we had Firehouse Pork Chops last night! Made to feed the masses, everything is in quantity here, but you can easily make it at home any size you'd like.
Tiella, pronounced tee-ay-lah, is a well-known Italian dish combining zucchini, tomatoes, potatoes, and sometimes spicy sausage. I live in North Central West Virginia and we know it as Tiala–pronounced the same with a little different spelling than what is most common. There are many variations in ingredients and methods of putting it together, but this is my favorite way to do it.
How to make Tiala:
Yellow squash
Zucchini
Bell peppers
Hot peppers, optional
Onions
Potatoes
Garlic
Oil
Dried basil and oregano
Hot or mild Italian sausage OR hamburger
Your favorite spaghetti sauce and/or tomato sauce
Mozzarella cheese–the more the better
Put whole potatoes in a large pot of water and bring to a boil. Cook until almost done–fork tender. Drain and let cool.
Meanwhile, wash and trim zucchini, yellow squash, bell peppers, and onions. For the squash, if they are small and tender, just slice about 1/4″ thick. If they are bigger, halve and then slice or quarter and slice if large (cut away large seeds and discard from large squash). Cut bell peppers into 1″ chunks. Cut onions about the same as peppers.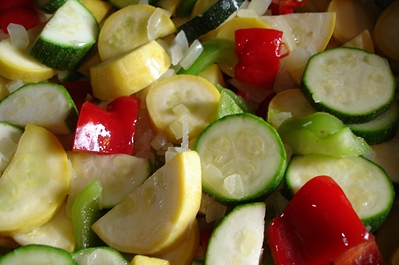 I used diced onions left from another meal.
Sauté all veggies except potatoes in small amount of oil until fairly tender but not completely done, sprinkle generously with basil and oregano while cooking.
Drain veggies well (important!), set aside.
Cook meat of choice in a skillet until no longer pink, breaking up into chunks as it cooks. Drain.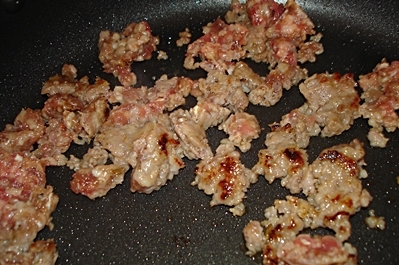 In a large stockpot, pour in the spaghetti and/or tomato sauce. Stir in the cooked meat, sautéed and drained veggies and cooled potatoes. Stir gently after adding potatoes. Add more sauce if needed to cover all the veggies.
Ladle some of the Tiala mixture into a greased pan or dish, about 1/3 or more full. Cover with a layer of mozzarella.
Cover cheese layer with the rest of the mixture. Top with another layer of mozzarella.
Cover and bake at 350 degrees until hot and bubbly and all veggies are tender but not mushy.
Can uncover the last few minutes if it seems a little too soupy.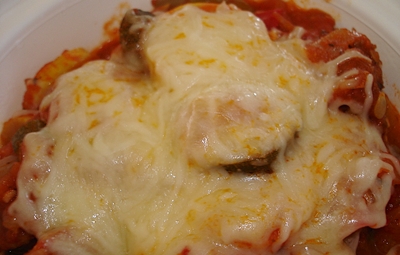 Get the handy print page and save this to your recipe box here:
Tiala (Tiella).
Do you have a recipe post or kitchen-related story to share on the Farm Bell blog?
See Farm Bell Blog Submissions for information, the latest blog contributor giveaway, and to submit a post.

Want to subscribe to the Farm Bell blog? Go here.
What can you enter to win this month? Click here.