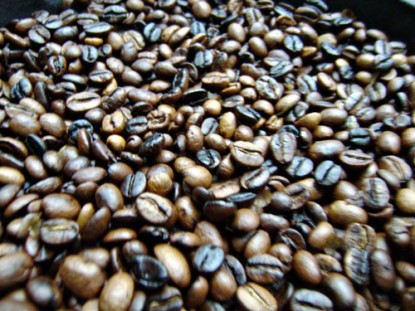 We're Partying on the Farm today! Unlike the last couple days, today is just demonstrations…and I'm demonstrating how to roast coffee beans in a cast-iron skillet. Home roasted coffee beans tomorrow! But I'm sure I will be sleeping in on my last day at Stringtown Farm before my journey back to Michigan.
H
ome roasted coffee beans can be used to make any of the espresso beverages you love. You have control of the roast strength. No need to pay over $7 a pound for "espresso" strength coffee!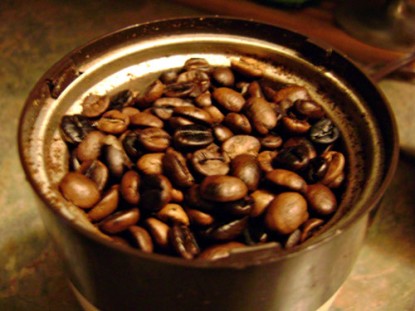 How to make Espresso:
A dark roasted coffee prepared by a rapid infusion of very hot water through the coffee grounds. The coffee is served in petite cups. Sometimes served with a twist of lemon.
The strength of the coffee is controlled by the darkness of the beans after roasting, how dense the grounds are packed and the amount of water is forced through them.
How to make Cappuccino:
A combination of 1 shot of espresso and hot steamed milk, topped with frothy milk and a shake of cinnamon or cocoa.
The strength depends on the strength of espresso.
How to make Caffe Mocha:
1 shot of espresso, topped with the froth from hot chocolate.
How to make Caffe Latte:
1 shot of espresso with slightly higher amount of steamed milk than espresso, topped with a large amount of foam.
How to make Macchiato:
1 shot of espresso with a dollop of foam on top.
Served in a petite cup.
How to make Latte:
Served in a large glass with mostly steamed milk and a small amount of espresso on top. The espresso should remain on top but colors the milk a coffee color.
How to make Cafe Au Lait:
A mixture of strong brewed coffee (not espresso) and steamed milk.
Served in a bowl.
How to make Caffee Borgia:
A frothy caffe mocha with orange and lemon peels.
How to make Cafe L'Amore:
A petite cup of espresso with a topping of gelato.


If you can't be at the Party today, my earlier blog post will help you get the wonderful home roasted coffee you would love. There's also information on the forum, too.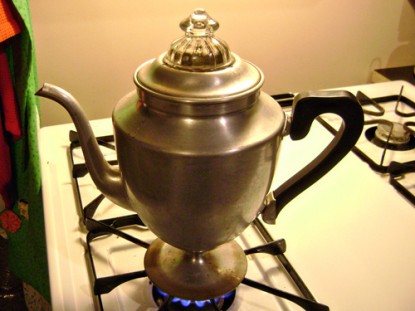 Want a little more boost in your cup in the morning? Get out the percolator!
Per 8 ounce serving of coffee:
Percolated — 190-270 mg of caffeine
Dripped — 178-200 mg of caffeine
Instant — 90-112 mg caffeine
Decaf — 3-7 mg caffeine
Instant Decaf — 3 mg caffeine


Cindy blogs at Chippewa Creek ~ Our Life Simplified.

Do you have a recipe post or kitchen-related story to share on the Farm Bell blog?
See Farm Bell Blog Submissions for information, the latest blog contributor giveaway, and to submit a post.

Want to subscribe to the Farm Bell blog? Go here.
What can you enter to win this month? Click here.