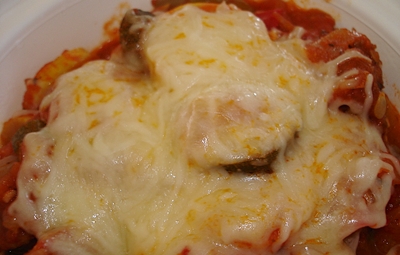 my
favorite way to do it.
Difficulty: Easy
Servings: as many as you'd like
Prep Time:
1/2 hour
Ingredients
Yellow squash
Zucchini
Bell peppers
Hot peppers, optional
Onions
Potatoes
Garlic
Oil
Dried basil and oregano
Hot or mild Italian sausage OR hamburger
Your favorite spaghetti sauce and/or tomato sauce
Mozzarella cheese–the more the better
Directions
Put whole potatoes in a large pot of water and bring to a boil. Cook until almost done–fork tender. Drain and let cool.
Meanwhile, wash and trim zucchini, yellow squash, bell peppers, and onions. For the squash, if they are small and tender, just slice about 1/4″ thick. If they are bigger, halve and then slice or quarter and slice if large (cut away large seeds and discard from large squash). Cut bell peppers into 1″ chunks. Cut onions about the same as peppers.
Sauté all veggies except potatoes in small amount of oil until fairly tender but not completely done, sprinkle generously with basil and oregano while cooking.
Drain veggies well (important!), set aside.
Cook meat of choice in a skillet until no longer pink, breaking up into chunks as it cooks. Drain.
In a large stockpot, pour in the spaghetti and/or tomato sauce. Stir in the cooked meat, sautéed and drained veggies and cooled potatoes. Stir gently after adding potatoes. Add more sauce if needed to cover all the veggies.
Ladle some of the Tiala mixture into a greased pan or dish, about 1/3 or more full. Cover with a layer of mozzarella.
Cover cheese layer with the rest of the mixture. Top with another layer of mozzarella.
Cover and bake at 350 degrees until hot and bubbly and all veggies are tender but not mushy.
Can uncover the last few minutes if it seems a little too soupy.
Categories: Beef, Budget, Casserole, Crowd-Size, Main Dish, One Dish Meal, Pork
Tags: Summer
Submitted by: wvhomecanner on September 3, 2011