Eggs of some sort are always my go-to breakfast when I have a houseful, with omelets being the most requested. But when they start saying they don't like this or they can't have that, that omelet ends up being scrambled eggs. Period.
Last weekend when family from out of town was visiting, we tried something new–Make Your Own Omelets, in a bag, boiled in water. It's nothing new, many people use this method when camping, but I've never tried it.
THAT is easier than scrambling eggs for 15 people!

The fillers are totally up to you! Sausage or bacon (pre-cooked, of course), hash browns, any sort of veggie, different types of seasonings, different cheeses, whatever your (or their) heart desires. They don't like peppers or onion? They can leave them out! They like a little more spice than everyone else? Add a little cayenne pepper or maybe even a little bit of diced jalapeno.
We started by dicing some peppers and smoked sausage, slicing some onion, pulling out the carton of eggs and bags of cheese. Someone did slice up some butter, since an omelet is fried in butter. I didn't use it, but I don't think there was any difference noticed.
The cook's job is done! Well, except for assembling and cooking your own omelet.

We found it best to use freezer quart-sized bags. The storage style was too thin. We lined large coffee mugs with the bag and started filling it up–a couple eggs, a few peppers, a couple slices of onion, a few chunks of meat, and a handful of cheese.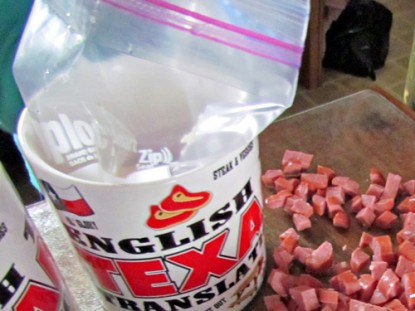 Now for the scrambling–close the bag and mash it all around until the eggs are mixed together well.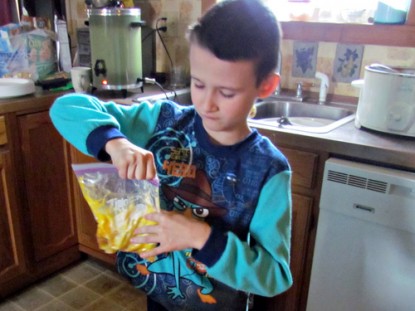 After writing your name on the bag, drop it into a pan of boiling water. (Not everyone wrote their name on the bag at the beginning, leaving a guessing game at the end.)
I realized that the depth of the pan and water isn't all that important, the diameter is. The bags will mostly float. With my 6-quart dutch oven, we were able to fit 4 bags of omelet. Next time, I'll use my larger pot that is wider (and deeper), but I won't fill it full of water, just a few inches. Make sure to flip the tops of the bags toward the middle so they don't sit on the edges of the hot pan.

It took about 7 minutes for the omelet to cook. How I found to test it was to gently squeeze it with tongs. Some uncooked egg oozed from the inside. I put it back into the water until it was completely cooked.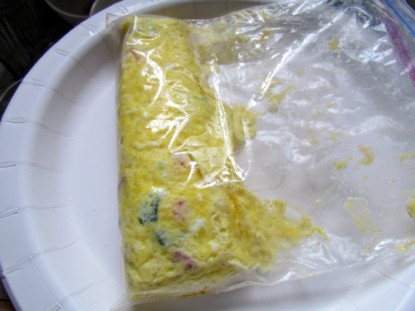 Open the bag and slide onto your plate. Be careful!! The steam is hot!


It turned out to be very light and fluffy. I was surprised since there was no milk or whipping involved.


Now everyone is happy. So whether you're cooking for a crowd or just for finicky eaters, omelets are easy! Enjoy!


Cindy blogs at Our Life Simplified.

Do you have a recipe post or kitchen-related story to share on the Farm Bell blog?
See Farm Bell Blog Submissions for information, the latest blog contributor giveaway, and to submit a post.

Want to subscribe to the Farm Bell blog? Go here.
What can you enter to win this month? Click here.