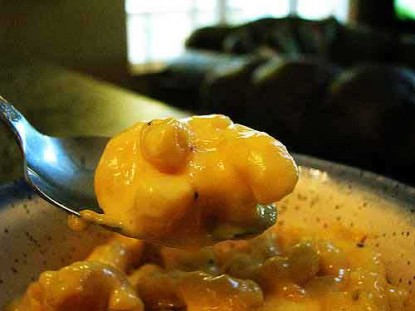 Difficulty: Easy
Servings: 6-8
Prep Time:
20 minutes
Cook Time:
20-25 minutes
Ingredients
1 cup elbow macaroni (measure uncooked)
1 tablespoon butter (or margerine)
1 tablespoon flour
dash of pepper
1 1/4 cups milk
8 ounces Velveeta cheese, cubed
Directions
Preheat oven to 350-degrees. Boil the macaroni while you prepare the cheese sauce. For cheese sauce, melt butter in a large saucepan on medium heat. (If you want to add chopped onions, peppers, etc, saute them now in the butter.) Add one tablespoon flour and a dash of pepper to the melted butter. Stir to combine butter, flour, and pepper. Add milk all at once, stirring on medium heat until the flour and butter dissolve into the milk and the entire mixture thickens and starts to bubble. Add cheese and stir to melt. Spoon in the cooked, drained macaroni. (If you're adding cooked ground beef or other meat, mix in along with the macaroni.) Transfer to a greased casserole dish. Bake at 350-degrees for about 20-25 minutes.
Categories: Casserole, Cheese, Dairy, Kid-Friendly, Main Dish, Pasta, Vegetarian
Submitted by: suzanne-mcminn on April 5, 2011