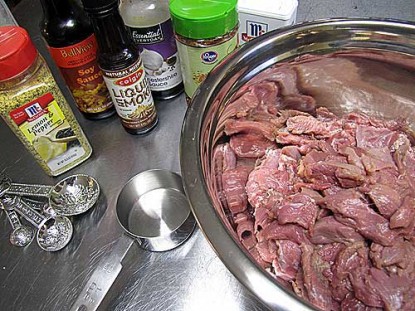 Difficulty: Easy
Servings: varies
Prep Time:
5 minutes, not counting slicing meat
Cook Time:
4-8 hours
Ingredients
1/2 cup Worcestershire sauce
1/2 cup teriyaki sauce
1/2 cup soy sauce
1/2 cup brown sugar
1 tablespoon garlic salt
1 tablespoon onion powder
1 teaspoon crushed red peppers
1 teaspoon black pepper
1 teaspoon lemon pepper
1 teaspoon liquid smoke
Directions
Combine all ingredients and mix well. Add 1 to 2 pounds thinly sliced meat, small pieces. Let meat sit in marinade overnight. Dehydrate 4-8 hours, depending on size of strips, at 155 degrees.
Categories: Appetizers & Snacks, Dehydrating, Preserving
Submitted by: suzanne-mcminn on November 26, 2012