For many years, we had no power. No electric bills, no lights, no mixer, canning in 90 degree weather on a wood cook stove. Finally we achieved the grid. I did a happy dance.
However, after years of living off the grid, I am well prepared when the power goes out. Propane generator hooked up to 500 gallon tanks, plenty of wood in the shed and on the porch, gas heaters hooked up and ready to run, lots of water in the tank and the power to run the pump. Gas hot water for the shower!
I get to enjoy storms with a well-stocked pantry. I love cooking on the wood stove while it heats my house.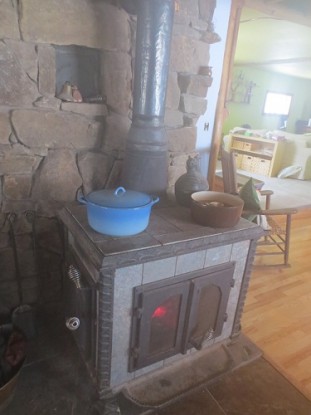 When the most recent big storm came, I had a pot roast with veggies and home-grown horseradish in one pot. Chicken soup with herbs from the garden (picked before the snow) in another.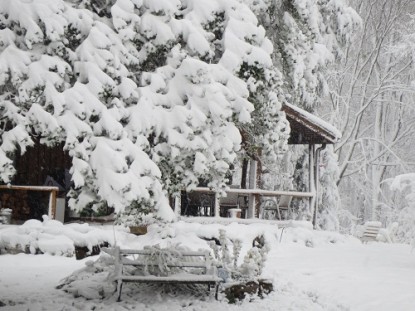 I finished canning up some applesauce.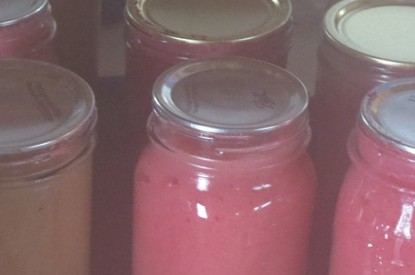 My daughter says "warm applesauce is the best applesauce" and she makes sure I have enough jars for it all to fit.
All the dishes were washed, the house was cozy and really smelling good. I got my daughter to make some applesauce muffins and other goodies in the afternoon. I wished I could share the comfort with those who really got blasted by Sandy.
It's time to unearth the winter woolies and down quilt. It seems like we just had the windows open at night. My heart goes out to the people on the East Coast still suffering.
Stay warm folks.

Do you have a recipe post or kitchen-related story to share on the Farm Bell blog?

See

Farm Bell Blog Submissions

for information, the latest blog contributor giveaway, and to submit a post.

Want to subscribe to the Farm Bell blog?

Go here

.