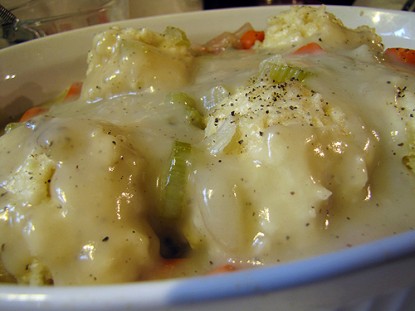 Difficulty: Easy
Servings: 6
Prep Time:
30 minutes
Cook Time:
1 hour
Ingredients
2-3 pounds chicken, cut up
1 medium onion, chopped
3 cups water
2 chicken bouillon cubes
4 carrots, sliced
4 stalks celery, sliced
dumplings (see below)
1/4 cup flour
Directions
In a large Dutch oven, combine chicken, onion, water, and bouillon cubes. Bring to a boil then reduce to simmer. Cover and simmer for 25 minutes. Add carrots and celery. Cover and simmer another 10 minutes.
Time for dumplings!
2/3 cup flour
1 1/2 tablespoons seasonings and herbs of choice
2 tablespoons cooking oil
milk
Combine the flour, seasonings/herbs, and oil in a bowl. Start adding milk gradually. Stir in enough milk to bring the mixture to the consistency of dropped biscuit dough. The dough mixture should be moist, but hold together.
Drop the dumplings by heaping tablespoonfuls on top of the chicken and vegetables in the pot. Cover and simmer 12-15 minutes until dumplings are fluffy and cooked through.
Remove the chickens, dumplings, and vegetables from the pot with a slotted spoon, transferring to a baking dish. Skim fat from the broth. Place about 1/2 cup of the broth in a cup, adding 1/4 cup of flour. Whisk together then add back into the broth in the pot, whisking and simmering to a smooth gravy. Season to taste with salt and pepper.
Pour gravy over the chicken and vegetables. At this point, you can keep the dish warm in the oven or serve immediately!
Categories: Main Dish, Poultry
Submitted by: suzanne-mcminn on April 7, 2015