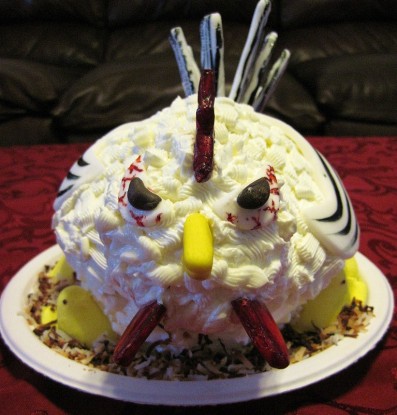 So…are you gonna grab one of those Peeps?
What? You can't possibly intimidated by a little stink-eye and some frosting?
Well, I was. Me + cake decorating = recipe for disaster.
So, I decided to get a little schooling. By a pastry chef. By a pastry chef who keeps chickens. The above cake is just one more reason chicken keepers should probably not hang out.
Unfortunately, just because I like to bake, it doesn't mean I should. As you know, what little I know is self-taught. And I am a little lazy. And I am not so good at following directions. And me and measuring have been introduced, but we move in different circles.
Enter PastryMama. Is there anything prettier than a professional chef cooking you something? PastryMama gleefully agreed to teach me a few tricks of the trade, in return for shoveling 30+ tons of river rock.
Don't be fooled by her mild-mannered appearance. That spatula was wielded like a paddle when I got some egg yolks in the whites.
Seriously.
Then she mocked me when I cried.
Today's project: Learning to make Swiss Meringue Buttercream and subsequently decorating a chicken cake.
I went through 18+ store-bought eggs trying to get it right. Yes, I know both PastryMama and I have TONS of eggies, but apparently the store-bought eggs' whites are runnier (ick) and more volume.
A large store-bought egg should weigh at least 2 ounces. PastryMama made me weigh all the eggs, so I can say this with some certainty. ALL OF THEM.
Instructions:
Separate the eggs. Do not get any yolk into the whites. Use your fingers to pull out the egg-boogers (the chalaza).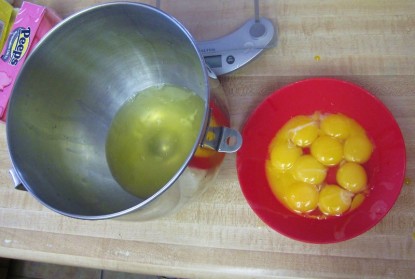 Place whites into double boiler, over medium-high heat. We put the KitchenAid mixing bowl directly into the large pan of water.


Add sugar and mix until all sugar is fully dissolved.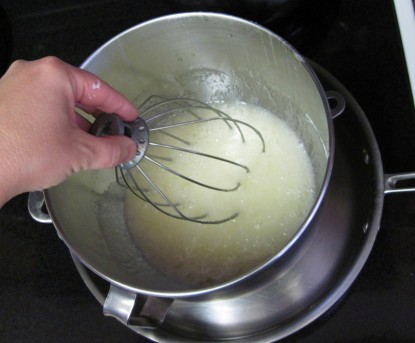 Check the mixture by scraping your finger along the bottom of the pan. (Careful! It's hot!) Rub your fingers together. If you feel any grittiness, the sugar is not done yet.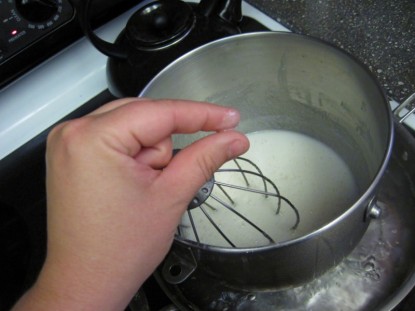 When the sugar is dissolved, remove from heat and begin whipping at high speed. You will need to whip until the egg whites have cooled.


It was REALLY warm the day we made the cake, so we used butter that was half at room temperature, and half still "chilly" from the fridge.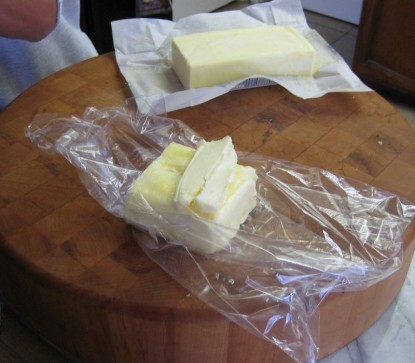 If the butter is too cold, it will not whip into the egg white mixture. If the egg whites are still too warm, the butter will melt, you will get soup, and have to start over.
I was SO not cracking any more eggs that afternoon.
Whip in butter and vanilla.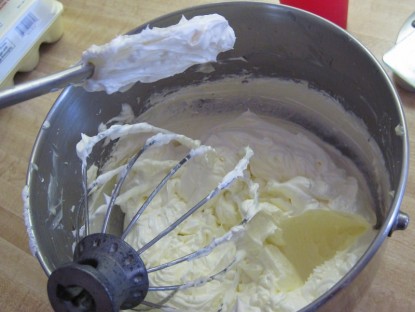 Success!
Next time: How to turn a perfectly good giant cupcake into a super-broody cake.


Larissa blogs at The Henway.

Do you have a recipe post or kitchen-related story to share on the Farm Bell blog? See Farm Bell Blog Submissions for information and to submit a post.

Want to subscribe to the Farm Bell blog? Go here.