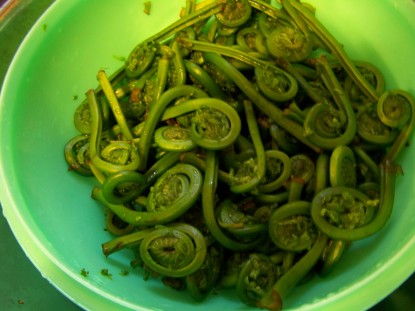 Fiddleheads or fiddlehead greens are the curled-up early fronds of the ostrich fern, found in the spring along riverbanks in the Northeast and are eaten as a vegetable. Fiddleheads have antioxidant activity, are a source of Omega 3 and Omega 6, and are high in iron and fibre.
How do you prepare fiddleheads you may ask?
First, find a secret springtime fiddlehead spot, usually along the bank of a stream or river. Be sure you have your tall mud boots on! Pick, pick, pick and fill your bags with them.
Then they need to be cleaned to get the brown fuzzy stuff off. Spreading them out on a 1/4" screen outdoors and using a water hose works well.
Or, stop beside the road where you see a handmade "Fiddleheads" sign propped up alongside an old pickup truck. Buy as many bags as you can.
Now it's time for the cooking. Rinse a pound or two of fiddleheads three times in cool water. Meanwhile, bring about a half kettle of water to a boil.
Dump the clean fiddleheads into the boiling water to cover, and cook for about 15 minutes, till tender.
Drain and serve piping hot with lots of butter, and vinegar if you like it.
That's it! A real old fashioned Maine/New Brunswick spring feast!
Fiddleheads can also be frozen or canned to enjoy later, using your regular freezing or canning method.


Get the handy print page and save this to your recipe box here:
Fiddleheads.
Do you have a recipe post or kitchen-related story to share on the Farm Bell blog? See Farm Bell Blog Submissions for information and to submit a post.

Want to subscribe to the Farm Bell blog? Go here.