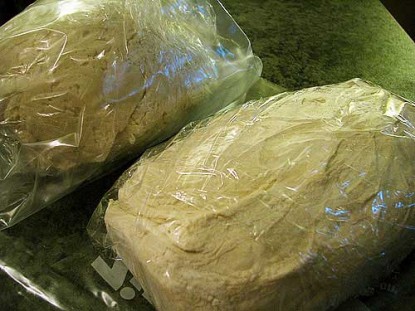 Difficulty: Easy
Ingredients
yeast bread dough
Directions
You can freeze Grandmother Bread two ways:
1. Make the dough–and before even giving it a first rise, place the ball of dough in a greased bowl, covered lightly, in the freezer. An hour later, the ball of dough neatly frozen, remove it from the bowl, wrap it in plastic, and place the wrapped ball of dough inside a sealed freezer bag. When you freeze an unshaped ball of dough before the first rise, you can use it in numerous ways. You can turn it into a loaf, rolls, caramel buns, apple-streuel ladder loaf, cinnamon crispies, and on and on. It's a delight waiting to happen.
-or-
2. Let the dough rise the first time, punch it down, shape it into a loaf (or rolls or however else you plan to use it) then partially freeze. Once frozen, wrap and place in a sealed freezer bag.
Whichever way you freeze it, once you take it out, let it thaw and come to a rise and continue on to bake. The dough will take about six hours to thaw out and rise (both ways, shaped or unshaped).
See more about Grandmother Bread here.
Categories: Breads, Tips & Tricks, Yeast Breads
Submitted by: suzanne-mcminn on July 28, 2010