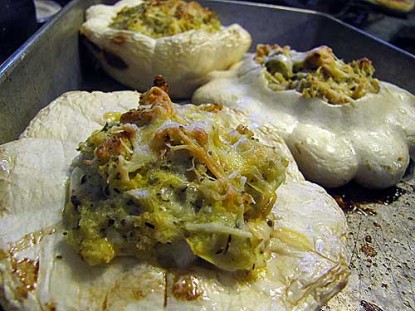 Difficulty: Easy
Servings: 5 to 6
Prep Time:
30 minutes
Cook Time:
20-30 (not counting roasting squash at the beginning)
Ingredients
5 to 6 patty pan squash
1/2 cup cooked ground sausage
1/2 cup diced onion and/or peppers
1/2 cup shredded mozzarella
1 1/2 cups soft bread crumbs
1/2 teaspoon herbs of choice (basil, rosemary, parsley, etc.)
1/2 teaspoon crushed red peppers, optional
salt and pepper to taste
Directions
Roast squash at 400 degrees in a covered pan until fork tender. Scoop out a hole in the center of each squash, removing seeds but reserving squash pieces. Chop squash pieces. In a bowl, combine squash bits, ground sausage, diced onion/peppers, bread crumbs, and cheese. Season to taste with salt and pepper. Stuff center of each squash with the filling. You may need more or less filling, depending on the size of your squash. Bake at 350 degrees for 20-30 minutes, until filling is heated through. Can be made ahead and refrigerated until baking time!
Categories: Side Dishes, Vegetables
Submitted by: suzanne-mcminn on August 30, 2011