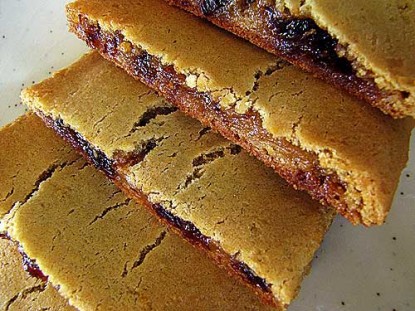 Treasure Trove
cookbook and
had
to make it. These are delicious! You can use figs instead of raisin for the filling, or use any flavor jam.
Difficulty:
Ingredients
For the dough–
4 eggs
3 1/2 cups brown sugar
1 teaspoon salt
1 tablespoon baking soda
1 tablespoon cream of tartar
5 cups flour
7/8 cup melted lard or shortening (or vegetable oil)
For the filling–
1 pound raisins (2 cups)
1 cup water
1/2 cup sugar
1 tablespoon cornstarch
Directions
Combine all the dough ingredients; mix well. Divide into two balls, wrap in plastic, and refrigerate for 2 hours.
For the filling, finely chop the raisins in a food processor. Place raisins, water, and sugar in a small pot. Simmer till nearly dry. Stir in cornstarch. Let cool.
Cut each of the two balls of dough in half so that you have four pieces. Roll out each piece thinly (about 1/8-inch thick) on a floured surface and into long, narrow rectangles, each rectangle about 12 inches long by 7 inches wide. Cut this piece in half, length-wise, to make two narrower strips. (Don't get hung up on the measurements–you can make the cookies any size you want, divide your dough however you want. This is just how I did it. I made mine larger than store-bought Fig Newtons. Mine were more bar-size.)
Spread the filling down the center of each strip. Fold the dough over, crimping to seal. Place rolls seam-side down on a lightly greased baking sheet and press a rolling pin over the strips lightly to flatten the tops. (Be sure to space the strips out a bit–they do spread as they bake.) Bake at 350-degrees for 15 minutes. After taking the cookies out of the oven, while still warm and soft, slice the strips into small bars about 2 inches wide then let the cookies finish cooling on wire racks.
Note: If you run out of filling before you run out of dough, you can either make more filling or use some of any flavor jam for the rest of the filling for variety.
This recipe makes about 6-7 dozen fig bars (depending on size). If you don't want thousands of Fig Newtons, you can cut the recipe in half. The dough and filling can also be saved in the fridge for up to a week, baking only a few dozen at a time if you prefer. This dough can also be frozen, so you could make up a big batch and take it out as needed.
Categories: Cookies & Bars, Desserts
Submitted by: suzanne-mcminn on July 2, 2010